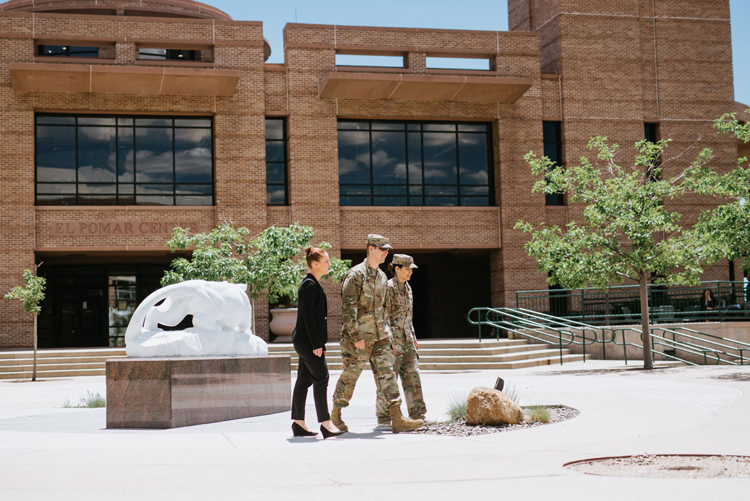 Continued commitment to the success of military-affiliated students at UCCS led to an elevated position in the 2021-2022 Military Friendly schools rankings as UCCS placed third among large public institutions.
For the third straight year, UCCS placed among the top 10, as UCCS outperformed Military Friendly's standards in six categories of academic policies and compliance, admissions and orientation, culture and commitment, financial aid and assistance, graduation and career, and military student support and retention. In 2020-2021, Military Friendly placed UCCS fifth overall for excellence in those same categories.
"We are grateful to our military for keeping us safe and we take great pride in serving them and their families. Our military-affiliated students bring rich experiences and strengthen our campus and community culture," said Chancellor Venkat Reddy. "We are fully committed to their success in the classroom and beyond. It's our priority to ensure that beyond their education, they are supported both mentally and physically so that they can gain skills to transform the communities they serve. Our Office of Veteran and Military Affairs plays a key role in ensuring their success at UCCS."
Growing programs at UCCS, including those within the McCord-Herbst Student Veteran Center, support the roughly one in five students at UCCS reporting a military affiliation. Lisa Buckman, director of the Veteran and Military Affairs Office, said students feel at home at UCCS both due to the physical space dedicated to military-affiliated students, but also due to the many military-focused campus programs like the Student Veteran Organization, Boots to Suits and Books for Battle Buddies.
"We're honored to be recognized as a top educational destination for student veterans, active-duty personnel and their family members. These students and their family members have served their country, and we are proud to offer them a home and the best possible education to ensure their success moving forward," Buckman said.
The Military Friendly® Schools list is created each year based on extensive research using public data sources for more than 8,800 schools nationwide, input from student veterans and responses to the proprietary, data­-driven Military Friendly® Schools survey from participating institutions. The survey questions, methodology, criteria and weighting were developed with the assistance of an independent research firm and an advisory council of educators and employers. The survey is administered for free and is open to all post­secondary schools that wish to participate. Criteria for consideration can be found at www.militaryfriendly.com.
Founded in 2001, VIQTORY is a service-disabled, veteran-owned small business that connects the military community to civilian employment, educational and entrepreneurial opportunities through its G.I. Jobs® and Military Friendly® brands. VIQTORY and its brands are not a part of or endorsed by the U.S. Dept of Defense or any federal government entity. Learn more about VIQTORY at www.viqtory.com.