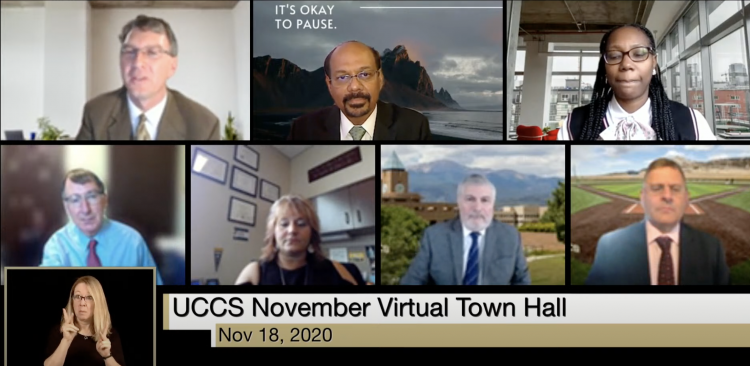 Chancellor Venkat Reddy and campus leaders addressed campus at the eighth virtual Town Hall of the year on Nov. 18.
Chancellor Reddy and a panel of campus leaders provided updates on budgetary and personnel matters, spring enrollments, equity, diversity and inclusion priorities and the critical importance of protecting one's physical and mental health.
"Please remember to extend compassion to yourself and others," Reddy said. "Safeguard your mental and physical health; they are your most important resources. Please check on those in your circle – especially the ones who seem strong and unshakeable. We are all facing challenges that may be invisible, and we all need a shoulder to lean on sometimes."
Updates presented by Chancellor Reddy and campus leadership included additional key takeaways.
Here's what you need to know:
Chancellor Reddy also shared that thanks to support from the Presidential Initiative and CU Foundation, UCCS has received funding to expand the MOSAIC physical space as well as its diversity, equity and inclusion efforts; the UCCS civics initiative; cybersecurity and computing research; the proposed annex for the Engineering and Applied Science Building; the new Career Center; and mental health support for students, faculty and staff.
In addition, Governor Jared Polis's fiscal year 2021-22 budget proposal will restore major budget cuts made to higher education institutions including UCCS.
"Thank you all for your support in keeping our campus strong and supporting our students," said Chancellor Reddy in closing remarks.
"I leave you with a wish to have a very happy holiday next week, with the encouragement to follow local health guidelines around social gatherings. It will take all of us working together to turn the tide of this pandemic."
Members of the UCCS community may fill out a survey response to the event.