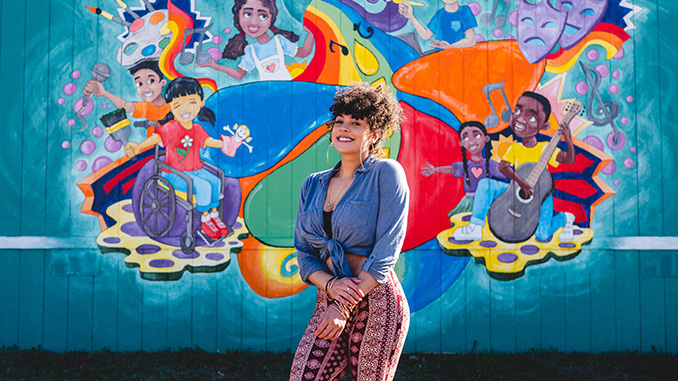 Ever since Shanah Leaf '18 was a child, she has been drawing and painting with the hopes of becoming a renowned artist one day.
Now, with help from her Visual and Performing Arts Bachelor degree from UCCS, Leaf is establishing her artistic career by getting pieces into galleries and working on successful collaborations with other local creatives, as well as teaching art to K-8 students.
"I have always been working toward a purpose," Leaf explains. "Four hours a day, I'd be drawing and all along I've had people say, 'You're doing what you're supposed to be doing.'"
Leaf's passion for art, and her unexpected foray into art instruction, was instilled by her immediate family, who are all either artists or teachers, or both.
"I think it's in my blood that I'm supposed to be teaching what I'm most passionate about," Leaf notes.
In between honing her artistic talents and becoming a teacher, Leaf also developed a love for basketball that eventually netted her an athletic scholarship to UCCS. Once there, she was drawn to the immersive Visual and Performing Arts (VAPA) degree program.
With five educational pathways to choose from, the cross-disciplinary VAPA program allowed Leaf to try theatre and film while focusing on in-depth studio art classes that gave her the right balance of essential skills and critical feedback from peers.
"They're trying to challenge you," Leaf says. "You created something, but that doesn't mean it's working, so I learned how to find the meaning in other people's work and how to articulate … my work."
Leaf also learned how to promote herself and complete professional exhibitions. In her junior year, she had her first-ever solo show at the UCCS Heller Center and, during her senior thesis show, she painted a 12×16 mural of wild, colorful patterns inside the UCCS Gallery of Contemporary Art (GOCA).
"My show was about the idea of 'Automatic Drawing,' which is the most basic form of surrealist technique," Leaf says. "There's a repetition and variation of patterns to create a floral, … paisley design."
From this show, Leaf was awarded grant money to paint three similar murals around the UCCS campus, including an entire wall of the Café 65 restaurant. This project, as well as a hands-on internship at GOCA, gave Leaf invaluable experience in organizing, managing, and marketing multiple art installations.
"UCCS definitely taught us how to prepare to be an artist," Leaf concludes. "Honestly, they over-prepared me. I feel very comfortable walking into a gallery and talking about work in the professional art world."
Leaf also got familiar with educating people about art during her internship by leading sculpture tours inside the cutting-edge UCCS Ent Center for the Arts complex, just north of campus.
"I got to be there the very first semester it opened," Leaf says. "It is just an incredible space that's conducive to creatives."
Leaf was about to stay at the Ent Center and hire on with GOCA, when a nearby school commissioned her to do a mural and asked her to teach kindergarten classes based on experience alone. Given her family connection to art and teaching, Leaf couldn't say no.
"My dad is an artist and art teacher himself and he's always encouraged that side of me," Leaf says. "He's who I credit for me being confident in my abilities."
This confidence led Leaf to become a capable K-8 art teacher at Grand Peak Academy in north Colorado Springs, where she teaches a rotation of more than 700 students everything from art fundamentals to art history.
"One of the biggest things I like about teaching is allowing students to find their own creative voice," Leaf says. "As an artist, you can see when it clicks for them in a piece; you can feel what they're trying to do."
Leaf's joy of working with kids has inspired her to obtain an Art Teacher License while creating more of her own content for a variety of different outlets.
Since 2019, Leaf has been asked to collaborate with local fashion company, False Ego, to design clothing for 303 Magazine's Annual Denver Fashion Week. She has also participated in a few pop-up exhibitions and maintains a working residency at Art111 Gallery & Art Supply in downtown Colorado Springs, where she is currently presenting hand-drawn portraits of empowered women of color, like herself.
"My grandparents were born in Puerto Rico," Leaf explains. "So I enjoy representing minority cultures, not only because it's what I see when I look in the mirror, but because they're not represented enough in the mainstream art world."
With each blank canvas, Leaf aims to represent inclusivity and diversity in a positive way that allows for more artistic accessibility. Soon, she will be completing a new design-based mural for Art111's building and feels grateful to be putting her UCCS degree to use doing what she was meant to do.
"The only way I can get through is creating work for myself — for my own creative energy," Leaf concludes. "I learned so much and I'm definitely really appreciative of it."