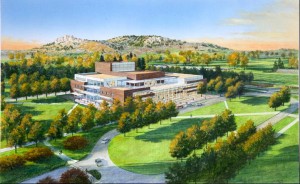 Colorado Governor John Hickenlooper proposed increases in higher education funding as well as money for a UCCS project in his Nov. 1 FY 2014-15 budget recommendations.
Hickenlooper recommended to the Joint Budget Committee of the Colorado General Assembly an additional $101.8 million for higher education, including a historic increase in student financial aid and limiting resident undergraduate tuition growth to 6 percent. The budget includes $60 million for institutional operating expenses, equating to an 11 percent General Fund increase for each institution.
This request doubles the operating increase provided last year and is intended to limit the need for higher tuition increases, according to statements from the governor's office. In addition, the request includes $40 million in new resources for student financial aid. Of this sum, $30 million is for need-based aid, $5 million is for college work/study programs, and $5 million is to restore the merit scholarship program. This increase for financial aid represents a 42 percent increase, the largest in Colorado history.
Additionally, the request includes resources to increase compensation to the State's classified employee workforce with a 1.5 percent across the board salary increase and an average performance-based merit increase of 1.5 percent. There are about 200 classified employees on the UCCS payroll.
The governor's request also includes a recommended $13.3 million for construction of a new Visual and Performing Arts Center at UCCS. The proposed building would be part of the university's growth and vision for North Nevada Ave.
Chancellor Pam Shockley-Zalabak expressed cautious optimism about the governor's proposals.
"I was very surprised," Shockley-Zalabak told a group of campus leaders this week. "But we have to be realistic. We will have to fight very hard to see these recommendations become reality."
While the governor's budget recommendations are important, they are the beginning of a legislative process that traditionally begins in January and continues through April.
After receiving the governor's recommendations, the six members of the Joint Budget Committee hold hearings and review the governor's budget requests for each state agency and institution. Briefings and hearings for most departments are scheduled in November and December before the General Assembly formally convenes in early January.
In January, the committee considers requests from departments for funding changes. Decisions are prepared and introduced as supplemental appropriation bills which are acted on by the full General Assembly.
During February and March, the JBC makes funding recommendations for the upcoming fiscal year and prepares the Long Bill for introduction. After both the Colorado House and Colorado Senate pass the Long Bill, the JBC members become the conference committee to resolve any differences. After both houses adopt the conference committee report, the bill is sent to the governor. The governor has line item veto power in acting on the bill.
To see the governor's budget announcement in its entirety, visit http://www.colorado.gov/cs/Satellite?c=Page&childpagename=GovHickenlooper%2FCBONLayout&cid=1251647631595&pagename=CBONWrapper