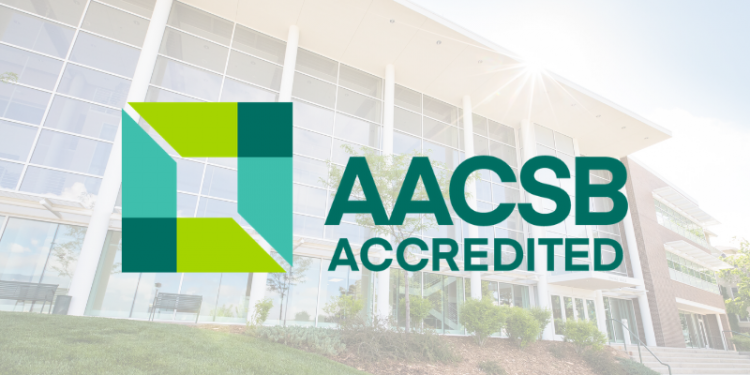 The UCCS College of Business once again maintained its business accreditation by AACSB International—The Association to Advance Collegiate Schools of Business. Founded in 1916, AACSB International is the longest serving global accrediting body for business schools that offer undergraduate, master's and doctoral degrees in business and accounting.
AACSB Accreditation is the hallmark of excellence in business education and has been earned by less than five percent of the world's business programs. Today, there are 874 business schools in 56 countries and territories that maintain AACSB Accreditation. The AACSB accreditation team conducted its assessment Feb. 23-25, meeting with faculty, staff and administration. Today, the College of Business received official notification that their accreditation had been extended for another five years.
"The AACSB distinction is synonymous with a high quality business education," said Eric Olson, interim dean of the College of Business. "This reaccreditation is a testament to our outstanding programs and services in the College of Business, and we are proud to have earned this distinction for over 30 consecutive years. A special thank you to the College of Business faculty, staff and administration for their hard work during the accreditation process."
The UCCS College of Business first received accreditation from AACSB International in 1990. For over 30 years, UCCS has demonstrated a commitment to innovation, impact and teaching excellence in business education. In the reaccreditation announcement, AACSB lauded UCCS for their work in the following areas:
Development of the R.O.A.R. program, an acronym for Relationships, Opportunities, Acumen and Readiness. The new career curriculum prepares undergraduate students for a seamless transition from college to career.
Full integration of the Daniels Fund Ethics Initiative at UCCS principles throughout the curriculum, as well as extra-curricular ethics activities through ethics competitions, workshops and conferences.
Creation of the Workforce Asset Map (WAM!), a collaboration between the UCCS Economic Forum and various community partners that provides valuable workforce-related information to employers and government leaders.
The Career Development Center's partnership with the Better Business Bureau of Southern Colorado to vet potential employers for effective and safe internship placement for students.
Productive and engaging program partnerships that provide new and enriching experiential opportunities for College of Business students.
"The UCCS College of Business has a very strong culture and highly engaged faculty, staff and students," said the AACSB Peer Review Team. "They have much to be proud of."
The UCCS College of Business was established in 1965 and has more than 1,300 undergraduates and 350 MBA and distance MBA students. The College of Business and Administration awards the Bachelor of Science in Business and Bachelor of Innovation degrees. The Graduate School of Business Administration awards the Master of Business Administration, Master of Science in Accounting and Executive Doctor of Business Administration degrees. More than 10,000 alumni of the College of Business live and work around the world. For more information, visit uccs.edu/business.
The University of Colorado Colorado Springs offers 52 bachelor's, 24 master's and eight doctoral degree programs. UCCS enrolls more than 12,000 students on campus. For more information, visit uccs.edu.
AACSB International (The Association to Advance Collegiate Schools of Business), founded in 1916, has as its mission to advance quality management education worldwide through accreditation, thought leadership and value-added services. As the premier accreditation body for institutions offering undergraduate, master's and doctorate degrees in business and accounting, the association also conducts a wide array of conferences and seminar programs at locations throughout the world. AACSB's global headquarters is located in Tampa, Florida, and its Asia Pacific headquarters is located in Singapore. For more information, please visit: www.aacsb.edu
---
No matter their size, one-time gifts make a big difference at UCCS. Make your gift today!