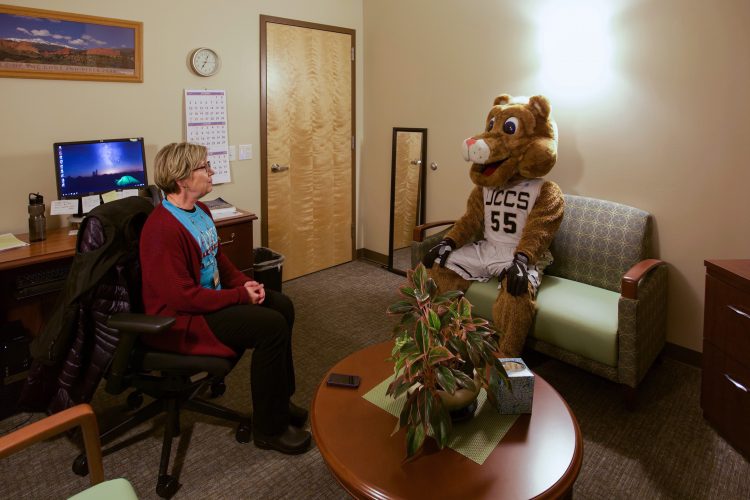 October 10 is World Mental Health Day, but UCCS students have access to mental health resources every day of the year.
The Gallogly Recreation and Wellness Center offers a variety of mental health services, from counseling sessions and free consultations to group therapy. Read on to see resources available to all students who are currently enrolled at UCCS.
Mental health screenings
Students wondering if they should seek professional help for a mental health concern can take a free, anonymous screening online. The program is completely anonymous and confidential and can help students better understand signs and symptoms they may be experiencing. Immediately following the brief questionnaire, students will be able to access their results, recommendations and key resources.
Counseling appointments
Mental Health Services offers a variety of counseling appointments to enrolled students, including individual, couple and family counseling. Students are charged $20 per session.
Counseling appointments can be made by calling the Wellness Center at (719) 255-4444 or by coming to the Wellness Center inside the Gallogly Recreation and Wellness Center in person. Normal operating hours are Monday through Friday 8:00am-5:00pm.
Group therapy sessions
In addition to individual, family and couple's psychotherapy sessions, the Wellness Center offers a number of group therapy sessions. Therapy groups are available for those experiencing or who have experienced grief, eating disorders, sexual assault or abuse, test anxiety, the transition from military to civilian life and more.
Contact the Wellness Center at (719) 255-4444 for more information or to express an interest in joining any of these groups.
Free consultations
Faculty, staff and students may use Mental Health Services for consultations (e.g. concerns about a depressed roommate, questions about how to make a referral, learning how to respond to a colleague with a psychological problem, etc.).
Contact the Wellness Center at (719) 255-4444 and ask to speak with Dr. Benek Altayli about your concerns.
Formal diagnoses
Mental Health Services administers psychological and neuropsychological tests to provide formal diagnoses, establish disabilities for appropriate accommodations and provide guiding information for treatment.
Contact the Wellness Center at (719) 255-4444 for further information about testing services.
Collaboration with Disability Services
Mental Health Services can help students with diagnosed mental health conditions gain access to resources and accommodations through Disability Services.
Contact the Wellness Center at (719) 255-4444 and ask about accommodations that may be available.
Emergencies
If you or a loved one are experiencing a mental health crisis or potentially life-threatening situation, emergency resources are available 24 hours a day, 365 days a year.
If you are on campus, call the UCCS emergency dispatch line at (719) 255-3111. Help will arrive within two minutes. If you are off campus, dial 911.
Mental health is important! To see all mental health services available, visit the Mental Health Services website.