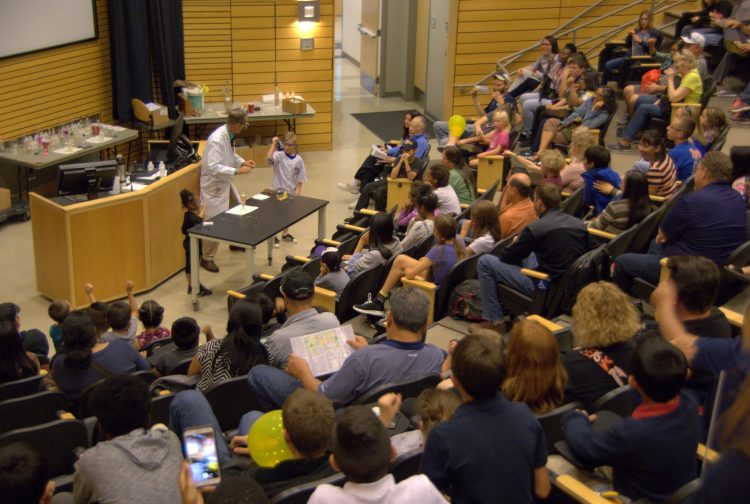 More than 6,000 students and families will take part in more than 60 interactive exhibits at UCCS for the annual Colorado Springs Cool Science Festival Carnival Day Oct. 12. The event is scheduled to run between 10 a.m. and 4 p.m.
The free event features demonstration shows, talks, laboratory tours and demos, rockets, drones, animals, bugs, solar energy, telescopes and microscopes, rocks, fossils, a simulated cave, robots, electronics, virtual reality computers, a pop-up planetarium, ambulance and fire engine, slime, electric race car and liquid nitrogen ice cream. The activities are geared for children in kindergarten through eighth grade and is presented by dozens of participating companies, museums, clubs, nonprofits and schools, including UCCS.
UCCS faculty and students will present a number of activities:
Physics Rock & Roll Band – 11:30 a.m.-12:15 p.m., and 12:30-1:15 p.m.: Enjoy a group of UCCS faculty (mainly physics faculty) performing classic rock and roll music from a range of decades. (all ages, outside University Center Upper Plaza stage).
AIAA Club Flight Simulations – all day: Test your pilot skills by flying planes on two realistic flight simulators (all ages, Osborne B213).
Electrical Engineering robotic systems – 10 a.m.-2 p.m.: Check out the cool robots and other experiments going on in the Electrical and Computer Engineering labs (all ages, Engineering Room 230).
Mountain Lion Motorsports Electric Race Car – all day: Mountain Lion Motorsports, UCCS's own Formula Society of Automotive Engineers Electric team will demonstrate some of the basic functionality of its Formula 1 style prototype race car, talk about creating an electric race car, and kids can build their own race car from craft sticks (all ages, Osborne A301).
BioFrontiers & UCCS Physics presents "The Nanoparticle Show" and lab tour – 1 p.m. and 2 p.m., maximum about 30 per tour: Peek into the Biofrontiers and Physics labs, play with magnets, see a cell through state-of-the-art microscopes, and hear stories of nanoparticles being used in medicine and in computer technologies. (grades 1-12, meet at the Pendulum inside Osborne entrance).

Students on the Upper Plaza watch a science demonstration during the 2017 Cool Science Carnival Day.

Biology DNA Extraction Lab – starts every hour on the hour from 11 a.m.-4 p.m.: Smash strawberries and extract DNA to learn about the genetic building blocks that make up all life. You can even try to extract DNA from your own cheek cells (grades 1-12, Osborne B314).

Biology Mooney Lab "Insectapalooza!" – 10 a.m., 11 a.m. and noon: Celebrate all things creepy crawly with an exploration of living and preserved insects and non-insect arthropods to see and touch (if you dare!) Includes a scavenger hunt to explore the diversity on display. (all ages, Osborne B301).
Biology Natural History Museum – all day: Come visit the UCCS Natural History Museum, home to more than 700 skulls, skeletons and mounts of animals from Saber-toothed tigers to hippos, mountain lions and more! (all ages, Osborne B402).
Chemistry and Biochemistry Enzyme Lab – 10 a.m. and noon (for K-4), and 11 a.m. and 1 p.m. (for grades 5-8): Experiment in the lab with enzymes from your own saliva, then view a computer model of these tiny molecules and see some of the enzyme research taking place (grades 1-12, Centennial 106).
Mechanical and Aerospace Engineering, Engineering and Prototyping Shop Tours – 11 a.m., noon, 1 p.m.: Check out our robots, penny catapults and 3-D printers, then tour the rest of the tools and machines in the engineering and prototyping shop (all ages, Osborne A327).
Musculoskeletal Biomechanics Laboratory presents "Them Bones, Them Bones…" – 10 a.m.-3 p.m.: Tour the lab to learn how we identify individuals at risk of fracture due to osteoporosis or related conditions, then make your own "spine segments" out of candy (all ages, Osborne B206).
Sustainability, Wellness and Learning presents "Heritage Grain Exploration: The Science of Sourdough" – all day: Stop by the UCCS Farmhouse for a SWELL time and dive in head first into the world of grains! We'll have many fun activities going on throughout the day so you can experience the life of grain. Start with threshing/cleaning, milling, flaking, baking, cooking and finish it off with tasting. Get your hands dirty in the kitchen making your own planet friendly energy bites. (All ages, UCCS Farmhouse, take the free shuttle from University Center lower plaza, or park in Lot 103). [Note: our farm is home to a hive of very peaceful bees, but if anyone has any allergies please be sure to have your EpiPen on hand.]
Activity stations (all day):

AIAA Student Club: Rockets for all ages: three different rocket building activities depending on how experienced a rocket scientist you are.
Anthropology Club: Check out human artifacts, as well as musical instruments and live performances of synthesizer music.
Cognitive Development Lab: Play a memory matching game to discover how you remember visual and verbal information.
HOSA Future Health Professionals: You're the doctor as you learn to use a pulse oximeter, stethoscope, sphygmomanometer, and other real medical instruments.
HyperFalcos Hyperloop Team: Watch our little "puppy pods" race around a mini hyperloop hi-tech transportation track and learn about our design for the 2020 Hyperloop Pod competition.

Raptor demonstration during the 2017 Cool Science Carnival Day.

Mechanical and Aerospace Engineering: Use Solidworks computer aided design to create a simple solid model then bring it to life on a 3D printer. (Osborne Room A213)

National Society of Black Engineers: Play with some cool robots and see computer code that makes them work.
Physics and Energy Science: Learn what the large Foucalt pendulum in the Osborne lobby shows and how it works.
Simulation Center: Meet a robotic child manikin named Charlotte from UCCS' Helen and Arthur E. Johnson Beth-El College of Nursing and Health Sciences Simulation Learning Center and help keep her from going into shock. You can also "drive" a telepresence robot located across campus.
Society of Women Engineers: Use popsicle sticks, glue, string and beads to create your own Newton's Cradle physics toy.
Student Members American Chemical Society: Learn about acids, bases, pH and dry ice while creating a reversible rainbow of colors.
Tree Ring Lab: Determine the age of a tree by examining its annual growth rings, and find out what they cal also tell us about past climates and environments.
The Carnival Day is the start of nine days of Cool Science activities throughout Colorado Springs. For a complete listing of festival and carnival activities, visit the Cool Science website.
CAMPUS IMPACTS
PARKING
Parking in the 200 series lots between Cragmor Hall and Columbine Hall, and the Gateway Garage, are expected to start filling up at 9 a.m. Anyone coming to campus before that time should not have issues finding parking, but between 10 a.m. and 3 p.m., give extra time to find parking. Lot 103 near the Campus Farm will likely have open spots throughout the day.
TRANSIT OPTIONS
Students can ride the City of Colorado Springs' Mountain Metro Transit for free with their student ID. The College Pass Program is available on all city buses and routes, with multiple stops on the UCCS campus on four bus routes.
FOOD
Cafe 65 will be open for special hours Saturday between 11 a.m. and 2 p.m. Clyde's Gastropub and the University Center Sanatorium Grounds coffee shop will be open during their regular hours.
WELCOMING OUR GUESTS
Members of the UCCS community are encouraged to help individuals who may be struggling to find their way across campus. Most often, it may be how to find specific buildings, rooms or offices. A mobile friendly map is available at map.uccs.edu or print off a copy to carry. Physical copies of the maps are also available at the University Center Information Desk.
If a child becomes separated from their parents, the designated unification point is the University Center Information Desk.