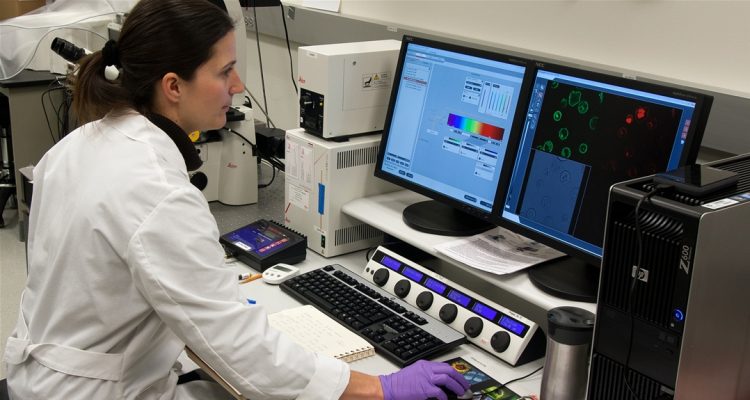 UCCS faculty brought in $8 million in sponsored research funding in 2018-19 and generated more than 700 research and creative works in 2018 as UCCS and CU celebrated the past year of research.
The CU system announced a final number of $1.2 billion across the four campuses, a 15.5% increase from 2017-18 and the third straight year over $1 billion. UCCS increased its sponsored research total by 16.3% last year and number of new awards by 45%.
"We should all be very proud of the extraordinary achievements of our UCCS research community, as the competition to win sponsored programs is fierce," said Jessi L. Smith, associate vice chancellor for research. "There is so much hard work that goes into applying for funding, implementing the project, carefully complying with regulations and disseminating new knowledge. It takes a community to pull off such efforts. As we continue to grow, we find ourselves at a pivotal time for growing our research infrastructure to ensure we can prepare the next generation of thinkers and doers to lead the next intellectual revolution."
In the past academic year, the Carnegie Classification of Institutions of Higher Education promoted UCCS to among doctoral universities with high research activity. The designation makes UCCS the only research-level university in southern Colorado and one of six in the state. The university also expanded its research programs with the new the Center for Student Research, the Faculty Incentive Program and the University Outstanding Research Mentorship Award.
Faculty researchers produced 271 journal articles, 205 artistic works, gave 143 presentations and wrote 90 books and chapters in 2018. Student research was showcased at the Mountain Lion Research Day, the Colorado Springs Undergraduate Research Form and the Graduate School Research Showcase during the 2018-19 academic year. More than $80,000 was awarded for graduate and undergraduate student research projects.
"CU's record-setting research funding demonstrates the high quality of our faculty, whose work in discovery and innovation improves lives, saves lives and addresses some of the most pressing issues facing society," said CU President Mark Kennedy. "Their work not only enhances the educational experience for our students, but also makes our world a better place."
Sponsored research funding from federal, state and local entities targets specific projects to advance research in laboratories and in the field. Research funding also helps pay for research-related capital improvements, scientific equipment, travel and salaries for research and support staff and student assistantships. CU cannot divert this funding to non-research-related expenses.
Other stories:
UCCS recognizes five researchers for hitting career milestones