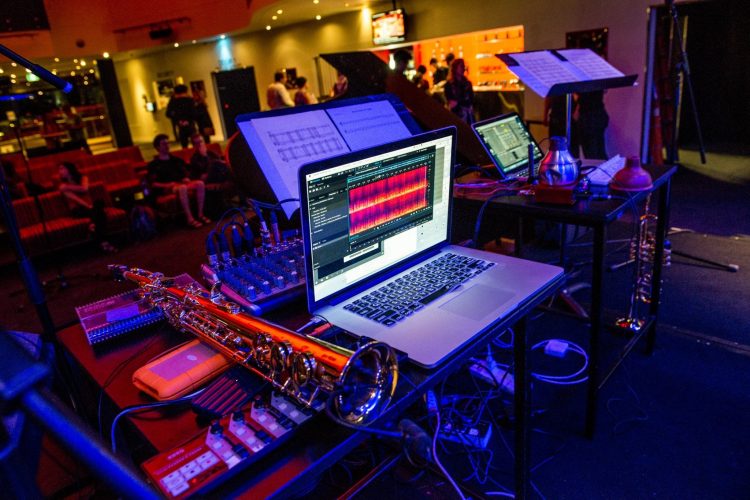 A growing job market looking for skills in social media marketing, graphic design, video and audio production, animation, photography and web design will be met with the new Bachelor of Innovation degree in digital media approved Sept. 12 by the CU Board of Regents. The new interdisciplinary program between four areas of the College of Letters, Arts and Sciences will mark the 49th bachelor degree program at UCCS.
"The BI in Digital Media recognizes a rapidly interconnecting dynamic field that is increasingly sought after across many areas of the professional world.," said Glen Whitehead, professor of music and LAS co-director of the Bachelor of Innovation program.
The Department of Communication will lead the effort and be joined by the music and visual arts programs within the Department of Visual and Performing Arts, and the Technical Communication and Information Design program. The degree will provide context in the artistic and commercial needs often required for positions in the field. The communication courses will focus on television and film production from pre- to post-production and media communication. The technical writing and English courses will teach skills related to document design, technical communication and writing. The music courses will provide courses in audio recording, production, editing, engineering and digital music creation. The visual arts courses will learn digital and video art, imaging and animation techniques.
"Drawing from four areas across the College of Letters, Arts and Sciences was critical to develop a comprehensive and integrated skill set for emerging careers across multiple media platforms," said Janice Thorpe, senior instructor and director of online learning in the Department of Communication.
The new digital media degree provides a better fit for students who may not be able to gain the experience needed in the existing campus programs in game design, digital film making, music composition, sound design or visual arts.
Existing staff and facilities are already in place, meaning there will no need for additional funding to implement the degree program. Program growth will determine if additional faculty is required.
"As is true with all of our Bachelor of Innovation programs, this one came through the collaboration of faculty in multiple disciplines to develop a program that addresses the needs of our current and future students," said Provost Tom Christensen. "Using existing resources, this new comprehensive degree that will address the needs of our business community and set our students up for long-term success in a constantly evolving profession."
The Bachelor of Innovation degrees are comprised of four components: an innovation core, a cross-discipline core, an emphasis major and a series of general education electives. The digital media degree, and the museum studies degree that was previously submitted by UCCS, will be considered for approval to the Colorado Commission on Higher Education, which meets October 2019.