More than 100 teachers going back into the classroom this fall will have an expanded toolkit for teaching science, technology, engineering and mathematics subjects thanks to the UCCS STEM Days of Summer Conference hosted by UCCSTeach and the College of Education on June 4-5.
The free two-day conference, sponsored by the Rocky Mountain Chapter of the Armed Forces Communications and Electronics Association (AFCEA), featured workshops on grant writing, augmented and virtual reality tools, how to teach STEM on a small budget, and sessions for new STEM teachers. UCCS faculty from multiple colleges and departments joined by local teachers to lead the 15 breakout sessions.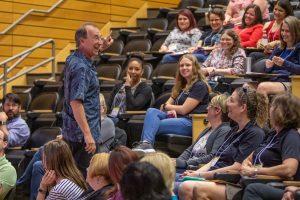 Eddie Goldstein, director of curriculum and large group programs at the National Space Science and Technology Institute, led an interactive keynote session about how to teach the water cycle. Using ping pong balls to simulate falling water, he demonstrated how to teach students about the functions of watersheds. He showed how to teach purification with a gallon of water with grass, dirt and twigs that he later drank, and created clouds to demonstrate the concept of condensation.
Goldstein joined Dimitri Klebe, founder and president of NSSTI, for a second interactive demonstration on the Mobile Earth and Space Observatory that evening. The "science center on wheels" travels to teach a variety of concepts for school and community events, often tying in educational programming at local schools during the day with community stargazing events at night. Teachers were able to explore the vehicle and participate in stargazing activities at the end of their two-day conference.
"The UCCS STEM Days of Summer Conference was an overwhelmingly successful event, thanks to the participation and engagement of many different STEM education stakeholders. We look forward to growing this event in future years and continuing our partnership with the AFCEA."
The AFCEA recognized 14 teachers at local schools for grants to use in their classrooms and provided funding to continue the STEM Days of Summer for the next three years. The Rocky Mountain Chapter established the STEM Scholarship Fund at UCCS. The fund will provide undergraduate scholarship support for students enrolled and pursuing a STEM degree.