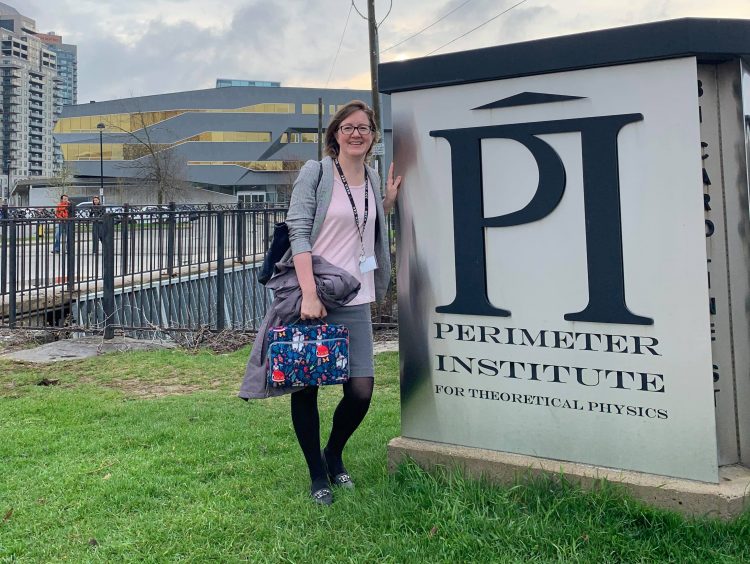 Karen Livesey, one of 31 women in the world to be named an Emmy Noether Fellow, spent two months at the world's largest research hub for theoretical physics to further her work on interactions between nanoparticles.
While on sabbatical during the spring semester, Livesey spent time at the Perimeter Institute in Waterloo, Ontario, Canada, for focused and uninterrupted work on nanomagnetism. She is working on understanding the overall properties of composite materials made up of magnetic nanoparticles, or particles less than one-millionth of a meter in size, within a plastic or liquid host material.
"I had been stuck on how to calculate these properties for quite some time," Livesey, an associate professor of physics, said. "The ability to have those uninterrupted days to think about the problem lead to some breakthroughs."
Magnetic nanoparticles are used to deliver drugs to parts of the body, to heat and kill cancer tumors, and to shield harmful electromagnetic radiation, but the interaction between those particles is what Livesey is researching.
"We still have difficulties in understanding their average response when there are a bunch of them all interacting with one another, which is what magnets typically do," Livesey said. "This work will improve the design and use of nanoparticle systems for biomedical and industrial applications."
Livesey was selected as one of six international members of the 2018-19 cohort of the Simons Foundation Emmy Noether Fellow Program. The program brings early and mid-career women from across the world — together with their families — to the Perimeter Institute to benefit from fully-funded visits in a unique research environment. With the announcement of the 2019-20 cohort this spring, the program has recognized 31 fellows.
Livesey's nanoparticle research is supported by the UCCS Biofrontiers Center and by a National Science Foundation Award, in collaboration with Professor Thomas Crawford at the University of South Carolina.