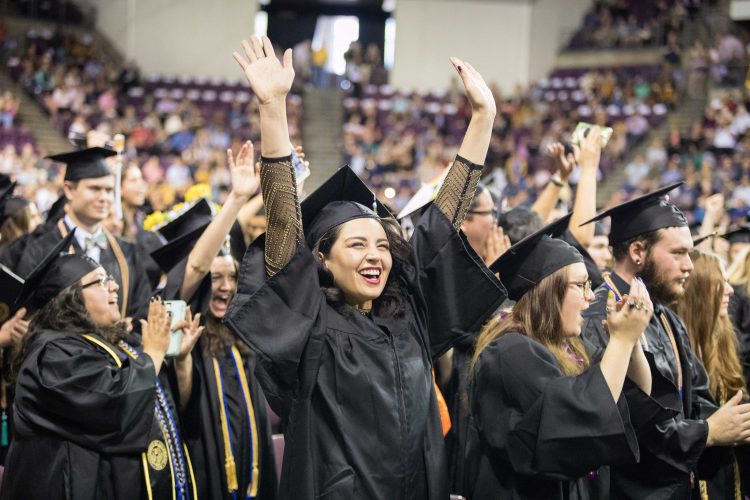 UCCS conferred degrees to 1,496 students, and more than 1,100 graduates joined 10,000 family, friends, faculty and staff in the spring commencement ceremonies May 17 at the Broadmoor World Arena.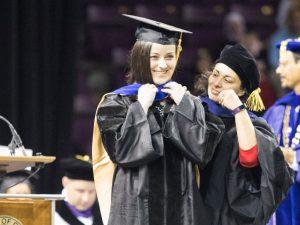 UCCS awarded 17 doctoral degrees, 284 master's degrees and 1,195 bachelor's degrees. Honors designation went to 486 undergraduate students. Alyssa Ortiz became the first student to complete a doctoral degree in applied science with an emphasis in mathematics.
It was the final UCCS commencement for CU President Bruce Benson. He is retiring this summer after 11 years as president, the longest term for a CU president in more than 65 years. He and his wife, First Lady Marcy Benson, were recognized at each ceremony by Chancellor Venkat Reddy.
"Under his leadership, the University of Colorado has seen record enrollment, record research funding and record fundraising," Reddy said. "In addition, they have personally supported the Ent Center for the Arts and four separate scholarship funds for our campus."
Reddy also encouraged students to embody the values of UCCS in their personal and professional lives.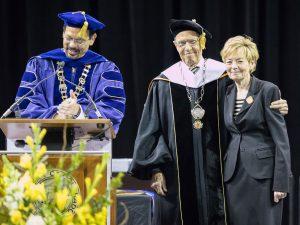 "We will use our differences and agreements to advance our community, nation and the world," Reddy said. "Our principles are the foundation of how we address both challenges and create progress."
Two graduating students, Victoria Asuquo and Ryan Dobbs, delivered the keynote addresses in each ceremony.
"Do not let the fear of failure keep you from embarking on the new journey that lies ahead because failure isn't a simple event, but failure is when you allow your pains and your disappointments to become your identity," Asuquo said in the morning ceremony. "Worrying about failure does not empty tomorrow of its sorrows, it rids today of its strength."
"When the pain of life pushes you, you push back," Dobbs said in the afternoon ceremony. "Because on this day you have earned too much, come too far and worked too hard to let life push you over."
UCCS also recognized two members from the Class of 1969 who returned on the 50th anniversary of their graduation.
— Photos by Jeffrey M Foster