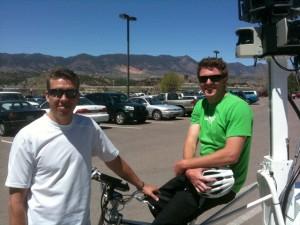 A professional triker from Google spent Tuesday riding the campus on a three-wheeled cycle carrying 250 pounds of sophisticated camera equipment to capture street-level images for the Street View feature of Google maps. We expect the images to be available later this year.
Representatives from Public Safety, Facilities Services and University Advancement worked in coordination with the Google staff to capture images of campus. Their actions included keeping trucks and other vehicles off sidewalks that could impede the camera, steering the cyclist through construction zones, and making sure the campus looked as good as possible.
Google uses face recognition software to automatically blur faces so faculty, staff or students should not be identifiable in the images, according to Jeff Foster, multimedia marketing coordinator, University Advancement. Foster coordinated the Google visit.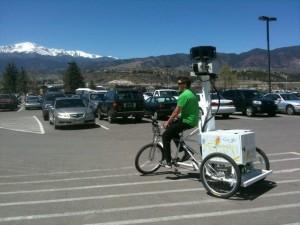 "Working with reps from Google and getting a quick peek into their operation was a very cool experience," Foster said. "The best part, though, is that we'll have a presence on Google Maps Street View and people all over the world will be able to virtually tour our campus."
Google has used specially equipped cars to gather images of neighborhoods, cities and other attractions for several years. But cars couldn't get everywhere, especially college campuses and some historic landmarks. Earlier in the week, Google staff recorded images on the Boulder campus,
To learn more about Google Maps Street View, visit: http://maps.google.com/help/maps/streetview/