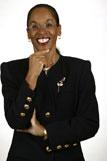 Provost Peg Bacon will meet with faculty and staff members in the College of Education this week to discuss plans for an interim dean of the College of Education as well as search plans for a permanent replacement for La Vonne Neal.
On Monday, the University of Northern Illinois announced Neal as its dean of education.
"I am appreciative of Dean Neal's five years of service to the University of Colorado at Colorado Springs," Bacon said. "This is a wonderful career advancement opportunity for her and I offer sincere congratulations."
A community and campus celebration of Neal's work at UCCS is planned after commencent. A date and time will be announced.