The Historic Preservation Alliance of Colorado Springs recognized the UCCS Heller Center Guest House with its Historic Civic Restoration award during an Oct. 24 gala event at Colorado College.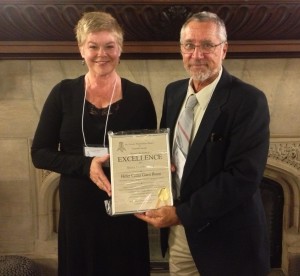 Accepting the award were Perrin Cunningham, curator, Heller Center for Arts & Humanities, and Stan Rovira, project manager, Facilities Services. They shared the award with the project architect, Aller, Lingle, Massey and contractor, GH Phipps.
The Civic Restoration category honors historic structures, monuments, or sites and landscapes that are part of the public domain. Examples of civic or public architecture include government, university and school buildings, museums, monuments, and religious structures. Examples of historic landscapes include public parks and street medians.
Now known as the Heller Center Guest House, it is the original building on property on the western edge of campus originally constructed by artists Larry Heller and Larry Field in 1935 as their studio and home "out of town." The building is a rammed-earth Pueblo Revival style structure. When Larry and Dorothy Heller married, Field moved from the property. In the 1950s, at Mrs. Heller's request, a greenhouse was added to the west side of the Guest House. The Heller property was donated to UCCS by Mrs. Heller in 1999 to be used as a center for the exploration of art and culture. The project was completed in spring 2012 and houses the artist-in-residence program.
Last year, the Historic Preservation Alliance presented the Historic Civic Restoration Award to UCCS for the restoration of the Heller Center Main House.
The Historic Preservation Alliance of Colorado Springs, is a local nonprofit organization founded in 1999 by citizens concerned about the preservation of Colorado Springs' unique and irreplaceable heritage.
To see previous Communique stories about the Heller Center Guest House visit: