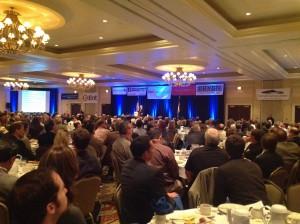 While the U.S. economy has seen a large improvement in the last 12 months, El Paso County is trailing in growth, according to the organizers of the 16th annual UCCS Southern Colorado Economic Forum.
While El Paso is trailing, forum organizers Tom Zwirlein, professor, College of Business, and Fred Crowley, senior instructor, College of Business, predict a slow growth in the local economy.
According to Crowley, housing and new car sales have increased in the last year within El Paso County.
"If you stopped counting now, sales would already by higher than the previous year," Crowley said.
Despite these positive indications, employment is still down when compared to national numbers. Crowley attributes this to the loss of manufacturing jobs with Colorado Springs and El Paso County.
Crowley and Zwirlein indicated that employment may see an increase with a number of new opportunities, including possible oil exploration and development, the rebuilding of the Mountain Shadows neighborhood and the lease of Memorial Hospital to the University of Colorado Hospital.
Nationally, Jim Paulsen, chief investment strategist, Wells Capital Management and keynote speaker, believes the U.S. economy is on the right track to recovery.
"Growth in the economy is never fast enough to please everyone," Paulsen said. "Especially during a political season."
Accord to Paulsen, unemployment saw its largest drop in the last 12 months, leading to higher confidence and a better job market. This improvement position to enter the "gear year," where large improvements may be seen.
The forum also included  a panel discussion titled "The Changing Health Care Environment: Leveraging Economic Opportunities for the Pikes Peak Region" featured leaders in the local and state health care industry.
— Photo by Philip Denman