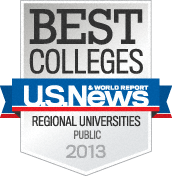 UCCS is among the best public regional universities in the Western United States and its College of Engineering and Applied Science is a national leader, according to the editors of U.S. News and World Report.
In the 2013 college rankings edition, "America's Best Colleges," to be released Sept. 18, the magazine's editors ranked the overall quality of UCCS ninth in a three-way tie among public Western regional universities. Among all public and private Western regional universities, UCCS was ranked in the first tier and 38 overall.
Advance copies of the rankings were made available to universities with the stipulation that they not be released until Sept. 12. Full, detailed rankings were made available Sept. 12 for an additional fee through the U.S. News website.
Regional universities provide a full range of undergraduate majors and master's programs, and few, if any, doctoral programs. U.S. News includes 625 universities in this category in one of four geographic regions—North, South, Midwest, and West.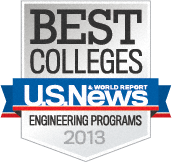 The magazine's editors also lauded the UCCS undergraduate engineering program, ranking it tied for ninth in the nation among public engineering schools whose highest degree is a bachelor's or master's, including military service academies. The overall national ranking for UCCS undergraduate engineering program, including public and private universities, was 25.
"We appreciate the recognition by U.S. News," Chancellor Pam Shockley-Zalabak said. "For almost 50 years, UCCS has served the people of the Pikes Peak Region with high-quality, innovative programs that have allowed individuals to succeed and our community to prosper."
The top public Western regional universities were California Polytechnic-San Luis Obispo, New Mexico Institute of Technology, Western Washington University, California State University-Long Beach, California State University-Chico, California State University-Fullerton, Evergreen State College, California Polytechnic-Pomona, California State University-Fresno, San Jose State University and UCCS.
The top undergraduate engineering programs at schools whose highest degree is bachelor's or master's were U. S. Military Academy, U.S. Air Force Academy, U.S. Naval Academy, California Polytechnic-San Luis Obispo, U.S. Coast Guard Academy, California Polytechnic-Pomona, Citadel, San Jose State University, U.S. Merchant Marine Academy and UCCS.
In the more detailed rankings available at extra cost, U.S. News ranked the undergraduate program in the UCCS College of Business 141 among public and private universities in the nation. Twenty-four universities tied for the ranking including the University of Texas, Arlington, the University of Nebraska, Omaha, University of Albama, Huntsville, University of Missouri, St. Louis, University of Hawaii, Manoa, and the University of Arkansas, Little Rock.
In ranking more than 1,400 colleges and universities, U.S. News relies on quantitative measures that education experts have proposed as reliable indicators of academic quality. Among the measures are student retention rates, graduation rates, and class sizes.
The complete rankings are available at http://www.usnews.com/.
To see rankings of other CU campuses, visit http://connections.cu.edu/news/cu-campuses-programs-maintain-elevation-in-national-rankings/.