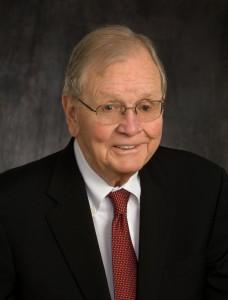 Recognizing the importance of the Pikes Peak region's long history of visionary entrepreneurs, the UCCS College of Business will honor entrepreneur and community activist Bruce E. Shepard at an April 30 campus luncheon.
Shepard is co-founder of Village Seven and the Colorado Springs Economic Development Corporation and served on the Colorado Springs City Council and the Greater Colorado Springs Chamber of Commerce in addition to boards including the Penrose-St. Francis Foundation, the Colorado Springs Planning Commission, and Penrose-St. Francis Hospital. He also served as president of the Colorado Springs Homebuilder's Association and as a regional director for Housing and Urban Development. He has mentored many other aspiring entrepreneurs throughout the region.
Shepard also devotes significant energy and resources to supporting the UCCS  Reach Your Peak scholarship program. More than 1,000 students have benefitted from the program since its founding in 2000.
"Bruce Shepard's history of visionary thinking makes him an ideal role model for our students and the kind of thinking we want to help them develop," said Venkat Reddy, dean, College of Business.  "In addition, his commitment to the community demonstrates that entrepreneurship is not just about business, it is also about helping to build successful futures."
The award luncheon is a fundraising event to support the UCCS College of Business and efforts to support more than 8,000 alumni, student, college, and community connections. Dean's Circle sponsors of the award luncheon are American National Bank, The Broadmoor, Nunn Construction, Penrose-St. Francis Health Services, and the UCCS College of Business.
Keynote speaker John Street is an experienced entrepreneur who led three companies to the Inc. 500 list status. He is known in the region as co-founder of USA.net and Telephone Express and is now CEO of MS Biotech.