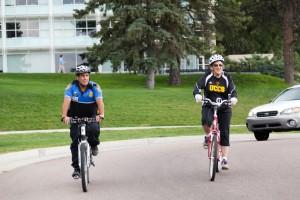 The Office of Sustainability will sponsor several events throughout September to celebrate Bike Month at UCCS.
"Sustainable transportation is something we all need to focus on," Josh Hendrickson, a student employee in the Office of Sustainability and event organizer for Bike Month, said. "We live in a great climate and a great city for bicycling, and we really want to expand the usage of bicycles on campus and help people realize what a great opportunity we have to do so."
In addition to special events, the office is conducting a Bike Month Challenge to encourage campus members to walk or use their bike for their daily commute. There will be two grand prizes,  one for the most number of days bike commuting, and one for the most overall bike commute miles (participants must commute at least four times during the month). To register for the challenge, visit  http://www.uccsbikemonthchallenge.eventbrite.com and follow the instructions.
The Bike Month events are:
Bike Jam 4: Pedal Power – 10:30 a.m. – 1 p.m., Sept. 6, El Pomar Center Plaza
The fourth annual Bike Jam event celebrates alternative transportation and kicks off Bike Month with music, vendor booths, bike demos, free tune-ups and contests for prizes. A free lunch will be provided by Chipotle Mexican Grill for participants who ride to campus or visit at least two booths.
Alternative Transportation Lunch-n-Learn Movies – Noon- 1 p.m. Sept. 11, 17, and 27, University Center Theatre room 302
Half-hour films about how cities across the globe are tackling sustainable transportation issues.  Bring your lunch and munch while you watch.  Short discussions will follow.
MetroRides Ride Your Bike to Work Day – 6 a.m., Sept. 12, University Village Colorado shopping center
Students, faculty and staff members will join with Colorado Springs City Council member and others  travelling from UVC to afree breakfast at the Pioneer Museum downtown. Register for the breakfast at www.springsgov.com/Page.aspx?NavID=3921.
Bike for Bagels – 7:30 a.m. Sept. 19, Columbine Hall entry
Those who ride bikes to campus can receive a free bagel.
Adopt-A-Waterway − 10 a.m. – Noon, Sept. 25, Parking Lot N (University Hall)
The Office of Sustainability's most popular volunteer event, Adopt-A-Waterway offers a free lunch to volunteers who help protect the local water supply.
Bike Riders' Breakfast – 7 a.m. – 10 a.m., Oct. 2, University Center Lower Plaza
A free breakfast from Rudy's Organic Bakery for bike riders will close Bike Month. All Bike Month Challenge logs must be turned in by 10 a.m. to be eligible for prizes.
–Matt Sidor, Office of Sustainability