Editor's Note: This is the fourth feature about a UCCS staff member who is also graduating. More features are planned as UCCS prepares for Spring Commencement Ceremonies on May 18.
Commencement participation for one UCCS employee will require some juggling.
Brett Fugate, academic advisor, Student Success Center, will be helping out with the UCCS Spring Commencement May 18, as many staff always do, but he'll be there to join the ceremony and get a diploma as well.
As comedically ironic as the image might be, Fugate won't be directing traffic or passing out programs in his cap and gown. But he'll still be checking his watch and preparing to hop in line with his fellow graduates when the time comes.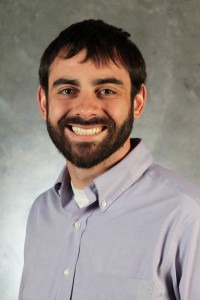 UCCS Commencement at the World Arena doesn't happen without planning and work. For all the years the ceremony has been scheduled there, dozens of UCCS employees have taken part behind the scenes to create an organized, smooth-running event. UCCS staffers hand out programs, give information and directions to guests, assist with parking, and just help wherever help is needed. Even though Fugate is receiving a master's degree in Leadership in Student Affairs in Higher Education, he'll still be helping out as he did with last December's graduation.
As in earlier ceremonies, the crew from the Student Success Center will assist with line management, Fugate said. He and his office mates will position the graduates where they need to be in their lines as they march into the arena, with Fugate finally positioning himself among them.
"I'm not sure how many advisors get to graduate alongside people they've advised," he said. "But the company as well as the degree offers a sense of accomplishment."
"I wanted to complete the MA in leadership," he said, "so that I could better serve students and my department in my current position, gain a deeper understanding into the structure and values of higher education, and to be better equipped to lead and handle increased responsibility in any future roles at UCCS."
Fugate was working at another university when he began the SAHE program at UCCS. After he started working at UCCS he was eligible for the tuition waiver benefit, which he was happy to use for his last two semesters. He recommends the experience to others.
"With excellent programs, great resources available, and a culture of learning and supporting learners at UCCS, I think this campus is a great place for staff to pursue further education," he said. "It took a while to get used to Saturday classes while working during the week full-time, but the adjustment is not nearly as difficult as I first imagined it would be."