Editor's Note: This is the third feature about a UCCS staff member who is also graduating. More features are planned as UCCS prepares for Spring Commencement Ceremonies on May 18.
Cheya Dowden, admissions counselor, Office of Student Recruitment and Admissions Counseling, is one of a number of UCCS employees distinguished by being among this year's graduates.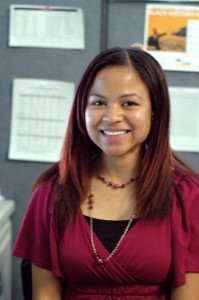 Participating in the ceremony on May 18, Dowden will receive a master's degree in Counseling and Human Services. This is a satisfying accomplishment for her and she recommends other staff follow the same path.
"I decided to complete a degree because I have always had a drive to continue my education," she said. "I am a first generation student so it has been my goal to complete a master's degree and eventually a doctorate."
Faculty and staff are in the education business simply because UCCS is an educational institution. Some of them seek pleasure in pursuing a goal or taking on a challenge. To Dowden and many other employees, a university campus is an environment that combines business with pleasure. There are opportunities to seize and pitfalls to avoid but she considers the prize worth the effort.
"I used the tuition waiver benefit during my last semester of graduate school which was immensely helpful," she said.
Availability of the tuition waiver benefit is a perk for employees and can make the difference in affording to pursue further education. Dividing time between earning a living and taking classes is an exercise in patience, time management and commitment, but Dowden recommends it.
"I would advise staff members that are contemplating completing a degree to speak with their supervisors about their plans," she said.
Acknowledging that a worker's extracurricular activities can affect the workplace, she emphasized the importance of having the blessing and cooperation of the boss and office mates.
"I would have struggled without the support and understanding of my supervisors and coworkers," she said.
They will be among the audience at the World Arena, cheering for Dowden's achievement.