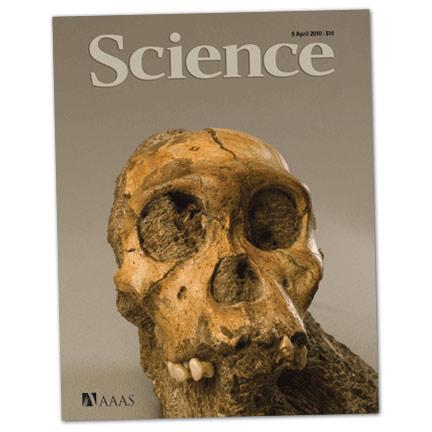 The work of two University of Colorado at Colorado Springs professors in the study of human memory is featured in the April 9 edition of Science Magazine, the publication of The American Association for the Advancement of Science.
Tom Wynn, professor, Anthropology, and Fred Coolidge, professor, Psychology, are featured in "Did Working Memory Spark Creative Culture?" by Michael Balter. The article scheduled for publication today and highlights the decade-long scientific partnership between Coolidge and Wynn that led to a theory of a new type of memory, working memory, as well as theories about human evolution.
Wynn and Coolidge believe that humans have an enhanced capacity to hold and manipulate information while carrying out specific tasks. This ability, called working memory, is considered essential for language, planning, and other conscious experiences including art.
Listen to the April 9th episode of the
Science
podcast that mentions the work of Coolidge and Wynn. The story starts at around the 11:15 minute mark. [audio:http://podcasts.aaas.org/science_podcast/SciencePodcast_100409.mp3|titles=Science Magazine podcast April 9]
www.sciencemag.org/multimedia/podcast/
The faculty members believe genetic mutations between 40,000 and 200,000 years ago led to enhanced working memory that allowed modern humans to do what their predecessors could not  including planning, speaking, and expressions such as art.
The theory represents a shift in thinking that is making a splash in academic circles.  "Current Anthropology" is planning an online supplement devoted to the subject and Wynn and Coolidge will present this month at a meeting on the evolution of language in the Netherlands.
The Science Magazine article quotes Paul Mellars, an archaeologist at the University of Cambridge, calling Wynn and Coolidge's work "the most impressive, explicit and scientifically based model."
The interaction between faculty members from different disciplines is also drawing attention. Known to each other only casually, Coolidge's passing interest in archaeology, and Wynn's interest in the mental steps used by early toolmakers, led to the collaborative efforts.
To subscribe to the Science Podcast, visit: www.sciencemag.org/multimedia/podcast/
To read the Science Magazine article, visit:  www.sciencemag.org/cgi/content/short/328/5975/160 (Subscription required.)