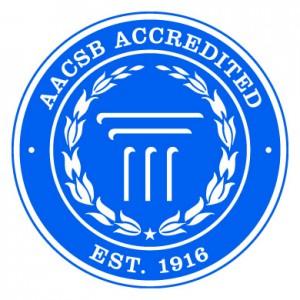 The UCCS College of Business maintained its business accreditation by AACSB International following a rigorous review of the college's courses, faculty qualifications and strategic plans.
The continued accreditation is an indication of the high-quality of the programs offered at UCCS and of those who teach them, according to UCCS and AACSB leaders.
The Association to Advance Collegiate Schools of Business, founded in 1916, is the longest serving global accrediting body for business schools that offer undergraduate, master's and doctoral degrees in business and accounting. Only 593 schools of business, or less than 5 percent worldwide, have earned this distinguished hallmark of excellence in management education. To maintain accreditation a business program must undergo a rigorous internal review every five years and demonstrate continued commitment to 21 quality standards relating to faculty qualification, strategic management of resources, interactions of faculty and students, as well as a commitment to continuous improvement and achievement of learning goals in degree programs. For information on the global distribution of accredited programs, visit http://www.aacsb.edu/accreditation/accreditedmembers.asp.
"It takes a great deal of self-evaluation and determination to earn and maintain AACSB accreditation," said Jerry Trapnell, chief accreditation officer of AACSB International. "Schools not only must meet specific standards of excellence, but their deans, faculty, and staff must make a commitment to ongoing improvement to ensure continued delivery of high-quality education to students."
Venkat Reddy, dean, College of Business, is pleased the college continues to be among the most distinguished business schools in the world. "We are in the business of building successful futures," he said. "Maintenance of our AACSB accreditation is critical to that vision. This recognition honors the quality of our faculty, staff, students, alumni and our community."
UCCS Chancellor Pam Shockley-Zalabak complimented the College of Business faculty and staff for their efforts leading to continued accreditation.
"Accreditation is recognition of the dedication of many over a period of years," Shockley-Zalabak said. "I am appreciative of the continued efforts to improve the quality of offerings and to create an exceptional learning environment shown by the faculty and staff of the College of Business."
The UCCS College of Business achievement will be recognized April 18 at the 2010 AACSB International Conference and Annual Meeting in Anaheim, Calif.
–Jana Hyde