A 9-0 Colorado Springs City Council vote Jan. 9 set into motion potentially monumental changes for both CU and UCCS.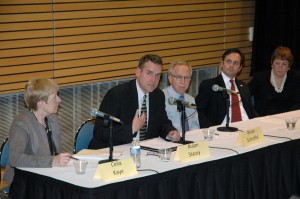 After a flurry of December activity, including a hastily organized conversation of community leaders at UCCS on Jan. 4,  the council voted to endorse a proposal to lease city-owned Memorial Hospital to the University of Colorado Hospital. The vote followed the recommendation of a task force that, for more than two years, studied various options for the future of Memorial Hospital and reviewed bids from public and private healthcare providers.
Teams from the city and UCH will now negotiate details of the lease agreement that could create a new Front Range hospital network and pave the way for a branch campus of the CU School of Medicine at UCCS. Among the details expected in the next few months will be a decision about when to place the issue before voters.
"This is one of the most important decisions for Colorado Springs for decades," Chancellor Pam Shockley-Zalabak said during the Jan. 4 meeting of community leaders at Centennial Hall. "The support of this proposal for this community and UCCS is at the core of the discussion."
UCH, which is affiliated with the university but is a separate legal and financial entity, proposes to create a Front Range-based partnership of hospitals that includes Memorial and the Fort Collins-based Poudre Valley Health System. The UCH proposal includes a $1.8 billion investment in Colorado Springs including a $74 million upfront payment to the City of Colorado Springs, $5.6 million in annual payments to the City of Colorado Springs and $120 million to create a branch medical school campus at UCCS. The UCH proposal also promises to solve concerns surrounding Memorial Hospital employees who are members of PERA.
The proposal received support from the CU Board of Regents with Regent Chair Kyle Hybl leading the presentation to City Council. The proposal also received support from economic development leaders who see a branch of the CU School of Medicine at UCCS as a community bragging point with practical value – medical students who study in Colorado Springs will be more likely to practice here. Additionally, a branch medical campus could mean federally sponsored research and clinical trials, making Colorado Springs a center of innovation and increasing educational opportunities and research at UCCS. Many of the leaders expressed amazement at the growth of CU's Anschutz Medical Campus, now a sprawling enterprise in Aurora, and its multi-billion dollar economic impact.
Others supported the plan because it makes Memorial part of a non-profit healthcare system committed to serving indigent populations as well as members of the military and retirees who rely on military insurance coverage. Expanded clinical and research services associated with a teaching hospital were also cited as reasons for support.
For UCCS leaders, the concept of a branch medical campus is exciting. The new Lane Academic Health Sciences Center contains space for a branch campus of the School of Medicine and the site has space for  additional buildings. By design, medical school enrollments are small. But having a branch medical campus at UCCS would be prestigious and could lead to improved collaboration, Shockley-Zalabak said.
Next Steps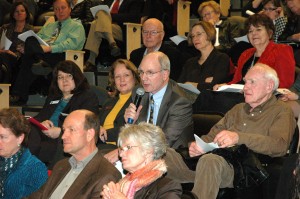 Teams of experts will sort through the details of completing the lease agreement between UCH  and Memorial. The process could take months and both the Colorado Springs City Council and Colorado Springs Mayor Steve Bach are expected to weigh in on the final details of the agreement.
For now, UCCS leaders are working with UCH management to connect them with Colorado Springs leaders so questions can be asked and answered. Visits to organizations ranging from Rotary Clubs to physician practice groups are planned as the complicated details of creating a new health care model is explained.
A question-and-answer session for faculty and staff with UCCS and UCH leaders will be scheduled this spring.
To see media coverage of the City Council action, visit
Photos by Tom Hutton