Anatoliy O. Pinchuk, assistant professor, Physics Department, was named New Inventor of the Year for UCCS Jan. 17 by the University of Colorado Technology Transfer Office.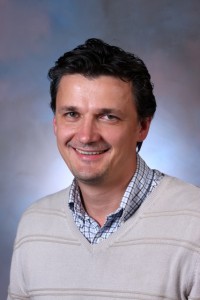 Pinchuk was one of nine faculty members and two companies recognized for efforts to commercialize technology. The awards were presented during a banquet at the Tivoli Center on the CU-Denver campus following a panel discussion of faculty perspectives on the origins of university inventions.
"The University of Colorado is a primary driver for the Colorado economy in many ways," David Allen, associate vice president for technology transfer, said. "One way that is often less visible that our thousands of graduates, new buildings and faculty accolades is the commercialization of research. This event recognizes excellence in the people and licensee companies that exemplify CU's success in transforming research into real-world impact."
Pinchuk was recognized for his work in the area of nano-materials for intracellular imaging and optical bio-chemical sensors.
Others recognized included:
Jeffrey L. Olson, Inventor of the Year, CU Denver | Anschutz Medical Campus. Olson, an associate professor of ophthalmology, specializes in the medical and surgical management of retinal diseases such as macular degeneration, diabetic retinopathy and retinal detachment. One of his inventions, a method for preserving sight through the use of nanotechnology, is licensed to a CU startup company.
Linda R. Watkins, Inventor of the Year, CU-Boulder. Watkins, a distinguished professor of psychology, has developed both novel drugs and new uses of known drugs targeting various disorders with unmet medical needs, including chronic and neuropathic pain, multiple sclerosis, ALS and addiction. Her inventions have led to numerous industry collaborations and licenses, as well as the formation of a new company, Xalud Therapeutics.
Richard J. Johnson, New Inventor of the Year, CU Denver | Anschutz Medical Campus. Johnson is chief of the division of renal diseases and hypertension. His research has focused on the mechanisms of renal injury and progression, including in diabetes and hypertension. Recently,  he has also examined the role of uric acid and fructose in obesity, metabolic syndrome, diabetes and hypertension.
Wei Zhang, New Inventor of the Year, CU-Boulder. Zhang, an assistant professor of chemistry and biochemistry, is developing novel materials with potential applications in solar energy conversion, gas separation and storage, chemical sensing and catalysis.
OPX Biotechnologies, Bioscience Company of the Year. OPXBIO, Boulder, is a company making renewable bio-based chemicals and fuels that are lower cost, have higher return and are more sustainable than existing petroleum-based products.
Phobos Energy, Physical Sciences/Engineering/IT Company of the Year. Phobos Energy, Menlo Park, Calif., and Lafayette, is focused on increasing energy production, decreasing costs, and opening up new applications for solar photovoltaic power production.
S. Gail Eckhardt, Business Advisor of the Year. Eckhardt is chief of the division of medical oncology at the Anschutz Medical Campus. As an advisor to the Technology Transfer Office on drug discovery and development projects, she has been critically important in facilitating industry collaborations involving not just her lab, but labs of her CU collaborators.
Michael R. Bristow, Serial University Start-up Entrepreneur Award. Bristow, a professor of medicine (division of cardiology) at the Anschutz Medical Campus, was a founder and former chief science and medical officer of Myogen, Inc. He is the President and CEO of ARCA biopharma, Broomfield, a company he founded in 2003 with the goal of developing genetically targeted therapies for heart failure. In 2007 he co‐founded miRagen Therapeutics, Boulder, a company dedicated to utilizing the biologic properties of microRNAs in developing therapies for cardiovascular diseases.
Additionally, two CU researchers were inducted into the Pinnacles of Inventorship, an all-stars group recognizing continuous commitment to best practices in technology transfer: Kristi S. Anseth, Distinguished Professor of Chemical and Biological Engineering, CU-Boulder, and Charles A. Dinarello, Professor of Medicine and Immunology, Anschutz Medical Campus.
–Lindsay Lennox, CU Technology Transfer Office