Mike Fryt only traveled eleven miles from his Manitou Springs home to earn his first college degree.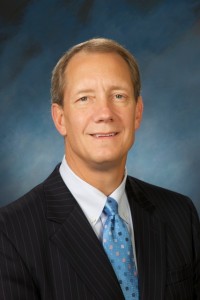 But Fryt, the corporate vice president of tax for FedEx and the December 2011 Commencement speaker, found that his CU degrees would take him around the world.
Fryt, 56, will share his experiences at FedEx and Exxon Corp. with an estimated 400 students who will participate in December 2011 UCCS Commencement ceremonies scheduled for 2 p.m. Dec. 16 at the Colorado Springs World Arena. He will join UCCS Chancellor Pam Shockley-Zalabak, CU President Bruce Benson and members of the CU Board of Regents in congratulating graduates and in the formal conferring of degrees.
"Many of the challenges today are more complex than ever, at least in part because they are global, not just regional, in nature," Fryt said. "It is no longer just us here in the United States and we cannot pretend it is. Indeed, we do so at our own peril."
For the new graduates, Fryt will trace his personal journey from Manitou Springs to UCCS where he earned a bachelor's degree in business, graduating in May 1977 as one of the university's top students. His success as an accounting major took him to CU Boulder where he earned his law degree in 1980, specializing in tax law. From CU, Fryt took corporate tax lawyer positions with Exxon and TRW, living in places like Sydney, Australia, and Brussels, Belgium, in addition to Houston and Cleveland.
"My travels affected my view of the world and helped me develop a global perspective," Fryt said. "We must understand we are a global community. For the most part, that's a good thing that can and should be leveraged to make the world a better place to live."
Now based at FedEx headquarters in Memphis, Tenn., Fryt continues to travel extensively for business and pleasure, having visited many countries in virtually every part of the world. But despite his frequently- stamped passport, he maintains an appreciation for UCCS and for Colorado.
"They are still a big part of my foundation," he said.
Fryt helped lead  a fundraising drive to honor a UCCS professor and he is proud of having scaled all 54 Colorado "Fourteeners" with his three brothers.
"Professor Kirk Wilcox, my accounting professor, was simply an outstanding educator and professional," Fryt said. "He was tough, but positively brilliant. He instilled in me a desire to learn. You don't forget that."