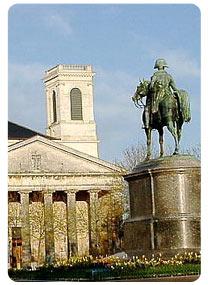 The College of Education's Office of Global Programs will welcome students from the Institut Catholique d'Études during the first half of the upcoming spring semester.
The nine-week program will provide opportunities for a small group of first-year masters' students in political science to immerse themselves in local politics and American culture.
ICES, a small private university in the Vendee region of western France, currently offers more than 60 international education programs. The students coming to UCCS will conduct research as part of their English-language thesis projects on an American political issue. Chris Sauer, assistant director, Office of Global Programs, College of Education, said the Department of Political Science will assist the group in their research by facilitating interviews with Colorado politicians and trips to city council meetings.
While there are not currently any students from UCCS studying at ICES, Sauer says there are plans to establish an exchange program between the two schools in the future.
As part of the exchange program, students will be placed into homestays through the Colorado Springs French Meetup Group. Members typically meet once-a-month to share food, conversation, and other aspects of French culture. Families who are interested in hosting a student during the program are encouraged to contact Daniel Catalano, (719) 440.4848, or catalano.d!aniel@yahoo.com.
— Kelly Whitcombe