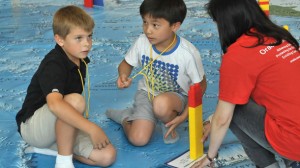 Maps big enough to cover a gymnasium floor will soon arrive in area elementary and middle schools as part of a UCCS-based geography education program.
The Colorado Geographic Alliance at UCCS will bring a National Geographic 26-by-35 foot map of the Pacific Ocean to schools in Monument, Colorado Springs, Ridgway and Norwood Nov. 14-30. The map will also serve as a focal point for teachers learning about new ways to teach geography who attend a Nov. 18 Colorado Science Conference in Denver.
From Nov. 28-Dec. 12, a giant map of Africa will be displayed in Academy District 20 schools. The map's brightly colored, smooth vinyl surface accurately illustrates Africa's oceans, seas, rivers, mountains, countries and capitals.
Designed for grades K-8, the maps come with a trunk full of accessories, including interactive activities and props such as photo cards that teach students about the physical characteristics of the continent as well as its history, wildlife, and varied cultures. Working in teams, students will mark the equator with ropes to learn about climate and latitude, participate in relay races to learn the names of countries and scavenger hunts and safaris to introduce them to wildlife and varied environments.
"Children walk into the room and can hardly believe that they are allowed to walk over mountains and oceans," said Rebecca Theobald, assistant professor adjoint and coordinator of the Colorado Geographic Alliance. "Teachers appreciate resources that allow students to actively engage in studies of geographic processes from stream flow to migration patterns."
The Africa map was first featured as a standard pull-out map in the Sept. 2005 issue of National Geographic magazine, a special issue devoted entirely to Africa. National Geographic's map division enlarged the map — the biggest map ever created by the Society — for educational tours through National Geographic Live.
Since the introduction of the original Africa map in 2006, the program has expanded to include maps of Asia, North America, South America, and the Pacific Ocean. Each map measures 26 feet by 35 feet and is loaned to schools and other hosts with an assortment of activities. In the 2011-2012 school year it is estimated more than 450,000 students will interact with one of these maps.
The Colorado Geographic Alliance, located at the University of Colorado Colorado Springs, is funding and facilitating the visits of these maps in Colorado. The alliance is funded by a grant from the National Geographic Education Foundation and brings together educators from colleges and elementary and secondary schools to develop geography instruction and demonstrate the importance of geography education. The alliance is coordinated by Steve Jennings, associate professor, and Theobald. Jennings and Theobald have been coordinators of the Colorado Geographic Alliance since fall 2008 and are passionate about empowering teachers with state-of-the-art pedagogical tools for the instruction of geography.
For more information, visit http://education.nationalgeographic.com/education/collections/geographyawarenessweek/?ar_a=1&ar_r=1 or http://events.nationalgeographic.com/events/special-events/pacific-ocean-map/