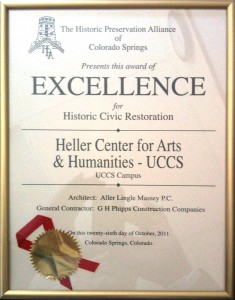 The Heller Center for Arts & Humanities earned a civic restoration award Oct. 26 from the Historic Preservation Alliance of Colorado Springs.
Recognized at the 10th annual awards gala at Bemis Hall on the Colorado College campus were Perrin Cunningham, director, Heller Center for the Arts & Humanities, Gary Reynolds, executive director, Facilities Services, Stan Rovira, project manager, Facilities Services, Phipps Construction and project architects Aller Lingle Massey of Fort Collins.
The judges, architects and historic preservation professionals from outside of Colorado Springs, praised the renovation of the Pueblo-revival style former Heller home and noted the architectural stewardship and craftsmanship demonstrated in its renovation.
For more information about the Historic Preservation Alliance, visit www.hpasprings.org. To learn more about the Heller Center, visit http://www.uccs.edu/~heller/index.html.