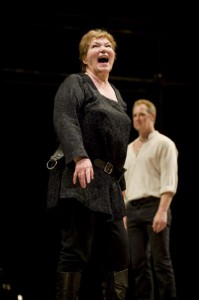 Theatreworks will host a performance of "Women of Will" Nov. 9-13 at the Dusty Loo Bon Vivant Theatre.
Performances will begin at 7:30 p.m. Wednesday through Saturday with matinees at 2 p.m. and 4 p.m. Saturday and Sunday. A free lecture and workshop is scheduled for 2 p.m. Nov. 13.
Actor, teacher, and writer Tina Packer will explore the many complex, compelling and diverse female roles in "Women of Will." She claims there are 177 female characters in Shakespeare and that Juliet, Cleopatra, Rosalind, Lady Macbeth, Desdemona and Kate the Shrew are quite a handful. You'll meet them and several more in this extraordinary performance, which The New York Times called "a lively and illuminating tour."
Packer is the founding artistic director of Shakespeare & Company, and will lead the audience into the unusually rich world of Shakespeare's heroines, queens, warriors, saints and murderers. She doesn't merely show, she also tells, explaining as she explores the many variations of the feminine Shakespeare created over his long dramatic career.
As part of the Prologue lecture series, sponsored by Theatreworks and the Department of Visual and Performing Arts, Packer will guide 15 participants through a process of "dropping in," a method of analyzing text from various viewpoints at 2 p.m. Nov. 13. Those not interested in participating can observe the exercise and get insight into Packer's performance strategies and techniques. To attend the workshop, reserve space by visiting http://theatreworksCS.org.
Tickets for the performances are $30 for reserved seats, and $20 for children under 16. UCCS students may attend at no charge.
For more information about the performance and tickets, visit http://theatreworksCS.org or call 255-3232.
— Caitlin Green
— Photo by Kevin Sprague