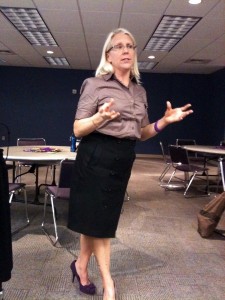 While statistics show sharp declines in violence against women over the past 30 years, vigilance is required to prevent a return to when domestic violence was not considered a crime, a UCCS faculty member said Thursday.
Katie Kaukinen, associate professor, School of Public Affairs, shared the results of her analyses of 28 years of data from the National Crime Victimization Survey as part of Domestic Violence Awareness Month activities on campus. In between statistics, criminal justice, and feminist theories, Kaukinen interspersed current events to illustrate importance and the complexity of violence against intimate partner issues.
A recent shooting at a Seal Beach, Calif., beauty parlor or efforts by Topeka, Kan., to discontinue domestic violence prosecutions in the wake of a municipal budget shortfall serve as examples of why community leaders must be vigilant.
"We have seen a significant decline in domestic violence since the 1990s," Kaukinen said. "I like to remind people that we've had a lot progress. I will also put the caveat that we've had a lot of backlash."
Kaukinen traced current domestic violence laws to the women's rights movement of the 1970s. Those efforts led to tougher laws in the 1980s and 1990s, the effects of which are now included in long-term studies. Examples of relatively recent laws include mandatory arrest, jail, and fines for domestic violence offenders as well as a proliferation of non-legal services such as shelters, crisis services, and healthy relationship education.
Before a primarily female audience of students and community leaders, Kaukinen drew laughs when she pointed out that statistics show men have been among the greatest benefactors of the domestic violence prevention movement. The number of men killed by their spouses or intimate partners has declined in recent years, leading Kaukinen pointed to research by other scholars that theorize the decline is the result of women having alternatives to killing their abusers. Those options include moving to a shelter or having independent sources of income that allow them to leave abusive relationships.
Still, there are connections between violence against women and such factors as race, education levels, employment and marriage, according to Kaukinen. Across the last 28 years, the data shows that a married, unemployed white woman is at the lowest risk of domestic violence, though all demographic groups have seen dramatic declines.
"We have had a positive impact on domestic violence problem," Kaukinen said as she pointed to charts showing intimate partner victimization rates disaggregated by race and employment. "There is a dramatic decline and flattening out of the data."
Kaukinen attributes the changes to tougher laws as well as improved access to services.
"Our overall finding is that there has been a dramatic decline in domestic violence," Kaukinen said. "I would argue that this has largely been shaped by the availability and access of services. I think the fact that we have mandatory arrest policies and that we enforce mandatory arrest policies has made offenders accountable. The average offender is deterred by mandatory arrest."
Domestic Violence Prevention Awareness Month activities will continue with the showing of the awarding winning film "Reviving Ophelia" at 4:30 p.m. Oct. 18 In the University Center Theater. The film explores an abusive relationship and the perspective of a victim.
 — Photo by Tom Hutton, University Advancement