Unknown Heller art discovered as restoration begins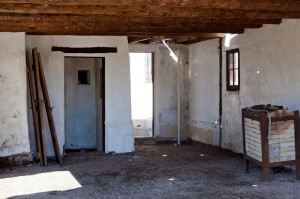 A cache of undiscovered works created by local artist Larry Heller turned up as work began on the restoration of the guest house at the Heller Center for Arts and Humanities in September.
A surprise donation made it possible to move up the timetable on the Heller guest house renovation project and a second surprise awaited the construction crew. They opened an attic crawl space to find over a dozen pieces created in the 1930s and 1940s, most likely hidden for over 50 years. A diary and a small wooden toolbox accompanied the sculptures, ceramic pieces, and photograph negatives Heller had stored away.
Always ready to try something new, Heller painted, then became interested in making bronze sculptures. Later, he worked with tile art, pottery, photography and metal, with subjects ranging from American Indians to Valkyries to wild mustangs.
The 36-acre property of Larry and Dorothy Heller was deeded to the CU Board of Regents in May 1997, with stipulations that open space be preserved, and the property be used for activities in the fields of humanities and fine arts. University administrators envisioned using the property for an art studio, classes, retreats, conferences, and exhibits showcasing the art of Larry Heller. UCCS received a grant from the State Historic Fund, allowing the buildings to be restored in a historically sensitive manner, preserving the original features of the structures. Since then, plans call for meticulous deconstruction and restoration of each building, funded through private donations.
The property, once known as Yawn Valley, is north of the 4 Diamonds Sports Complex. The new address is 1250 North Campus Heights.
The Heller Center for Arts and Humanities initially opened in 2004 with the main house upgraded to contemporary building codes, yet maintaining its original design and historical spirit. Other structures on the property include the guest house, a barn and a small gallery, with the guest house next in line for restoration.
Perrin Cunningham, director, Heller Center, said workmen for Gerald H. Phipps Construction were carefully removing a roof when they made the discovery.
"It's very exciting," she said. "They found a cache of sculptures, and ceramics we knew existed from pictures but had never seen the actual pieces. There were also original negatives from Larry Heller's art photography projects, remarkably well-preserved."
She said the find is a great opportunity for three Heller Center interns who are gaining experience in cleaning and preserving the artifacts. Then they will catalog each piece of art and incorporate them into the greater Heller Art Collection.
Cunningham supplied some history regarding the guest house. It was actually the first structure built on the property, before Larry Heller married and built what was later to be the main house. He and his friend Larry Field built the small house as living quarters with an artists' studio. It was a rammed or packed earth form of adobe construction in which clay and mud walls are made within a frame that is later removed. Over the years additional rooms were added, along with other buildings on the property, and it became a house for guests.
Now that the artistic treasures have been removed, workmen will continue carefully dismantling the old structure, preserving what they can, and replacing parts of it with more structurally viable materials. The revitalized guest house will have foundation, plumbing, electrical and lighting upgrades to comply with modern standards.
Work on the guest house should be completed before the end of the year, Cunningham said. Afterward, it will be ready to house visiting artists and scholars and will be available for classes and meetings. Once this phase of the construction is completed, the Heller Center will be open to the public at least one day each week. The center is currently open for events and by appointment.
"I am profoundly grateful to the anonymous donor for allowing us to move much sooner on the guest house project," Cunningham said. "It is a wonderful addition to the property and the lost art is a special treasure."
For more information contact Perrin Cunningham at pcunning@uccs.edu or 719-330-3463. Visit the Heller Center web site at http://www.uccs.edu/~heller/index.html.