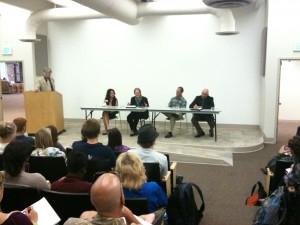 Benjamin Broadbent used everything from relationship advice to Buddhist wisdom to convey the value of interfaith dialogue to UCCS students during the first event of the White House Interfaith and Community Service Challenge Tuesday at the University Center.
The importance of religious and non-religious students getting together to talk about their beliefs and  converting these discussions into service to the community was the theme of the event.
"When I got married," Broadbent, pastor, First Congregational Church said, "the minister who married my wife and me asked if I wanted to be right or be in a relationship. There's your answer."
Introduced by Chancellor Pam Shockley-Zalabak, Broadbent, a guest at the inaugural event, was responding to a student's question if marriage between people of different faiths was possible or even recommended.
In between personal anecdotes, Broadbent, other guests and university administrators called attention to the need for differing groups to engage while offering suggestions of how to bridge gaps while maintaining the differences that exist between persons of different religious traditions.  The suggestions ranged from personal experiences to the theories of noted authors.
"I was raised Catholic and taught to associate only with those who were Catholic," Peg Bacon, provost, said. "But when we were in college, my sister and I started going to other churches in our hometown. Our explorations helped open a whole new way of thinking. College is the time for exploration and thought."
Kee Warner, associate vice chancellor for diversity and inclusiveness, Academic Affairs, proposed that assuring that university is a safe space where questions can be asked and values explored without fear of retribution or criticism is integral to inclusiveness.
"Tolerance is not enough," Warner said. "We have to have more if we're really going to learn from each other."
Suggestions included tying one's own integrity to one's own vulnerability around these issues as individuals focus on commonalities rather than differences. Kristy Milligan, director, Citizens Project, shared the tactic of a friend who tries to focus first on what she likes about people who share views about abortion that are different from  her own.
For Jeff Scholes, instructor, Department of Philosophy, and director of the Center for Religious Diversity and Public Life, the event was exactly what he hoped for. Sponsors  included three campus student groups, Campus Crusade for Christ; Colorado Secularist, Free Thinkers and Skeptics; and Coloradan Buddhist Society, groups that may not sit shoulder to shoulder often at university events. The students asked questions including what level of involvement the White House has in the yearlong activities and whether having discussions about religion was appropriate at a state-supported university.
Milligan said the separation of church and state was designed to prevent endorsement or denigration of a religion, not discussion. Scholes assured the students that they – not administrators and certainly not the White House – will decide the future of the initiative. The discussion will continue at Clyde's in the University Center at 12:15 p.m., Oct. 4. The discussions are open to faculty, staff and students, and Scholes hopes they will foster a spirit of engagement around the topic of religion.
The White House Challenge specifically calls for student engagement to generate community action.  Along with the lively discussion of how and why students should engage the issue of religion, two community advocates for student service in local charities also spoke.  John Weiss, publisher, The Independent, encouraged UCCS students to become cyber champions for different charities selected by the paper's  Give! Campaign. Steve Saint, director of the Pikes Peak Justice and Peace Commission, invited students to get involved in causes that his commission highlights.
To see previous stories about the interfaith initiative, visit http://communique.uccs.edu/?p=4705
— Photo by Tom Hutton