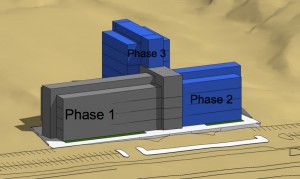 UCCS will seek approval from the members of the CU Board of Regents next week to move forward with plans to build a 56,000 square foot building on university property that fronts North Nevada Ave.
At a Sept. 13 meeting, the CU Regents are scheduled to review a UCCS proposal to construct a $16 million building to expand and consolidate mental health and wellness-related programs including the CU Aging Center, the Gerontology Center and wellness programs operated by the Beth-El College of Nursing and Health Sciences. The plan also provides space for Peak Vista, a community health organization that works closely with several UCCS programs. Peak Vista Community Health Centers would pay for its space and university officials believe there will be cost savings accomplished by consolidating the now independently operated offices.
"I believe we can do this new building without adding new debt service," Chancellor Pam Shockley-Zalabak said at the first all-campus university forum Aug. 30. "This is an important step in expanding programs that are important to our community and that have strong academic ties."
The proposed building would be located on the east side of North Nevada Avenue and south of the Four Diamonds Sports Complex. The new space would be convenient to main campus as well as for community members because of its central location and easy access to I-25.
Peak Vista began in 1971 and now operates 14 health centers including family health, senior health, women's health, homeless health and pediatric health.