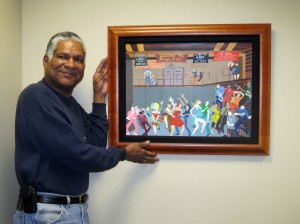 People who know Mike Friloux, custodian, Facilities Services, think he's special for a variety of reasons.
One more reason just came to light: Friloux is a talented painter with one of his original creations hanging on campus.
"Mike is a wonderful employee and a wonderful person," said Terry Schwartz, associate dean, School of Public Affairs. "He's really a part of our team here and we think the world of him.
"He mentioned his painting hobby in casual conversation one day, and we said we'd love to see his work. He brought in a few paintings to show us. All the SPA team found his painting of a blues club especially intriguing," she said. "But he wouldn't part with it. Instead, he painted an original work, personalized to include our people here."
Schwartz described the dance club scene represented in the painting called "Mike's Place" as colorful, vibrant and energetic. Friloux duplicated those elements in the subsequent "Terry's Place," featuring exuberant musicians and dancers on the floor and the names of public affairs personnel displayed on signs and banners in the background. Even Friloux himself is represented as "DJ Mike."
The painting hangs in Dwire Hall room 356, the SPA suite reception area.
Named Employee of the Quarter in Dec. 2009, Friloux was lauded for his helpfulness, positive attitude, and dedication to his job. UCCS learned of his good humor, habit of singing while cleaning bathrooms, and how the SPA faculty and staff hold him in high regard. But his hobby, oil painting, wasn't revealed at the time, and he only recently discussed it.
"I've been painting for about 30 years," he said. "It's relaxing, enjoyable, and rewarding in a special way. I mean, when you're done, that's the only one like it in the world. There's tremendous satisfaction in knowing you've created something that's one of a kind."
He said he discovered his artistic side in high school when he put the Parthenon and the Acropolis on canvas. His art teacher praised the painting and put it on display in the school cafeteria. Since then Friloux's been painting off and on for years, away from his hobby only during his time in military service. He said he enjoys capturing the energy and action of club scenes or athletic events, but occasionally depicts wildlife, especially birds.
"Whatever makes me feel inspired," he said.
While Friloux has had little formal training, he observes new techniques and other styles to broaden his knowledge base. Trial and error sometimes plays a part, he said, as he described the oversized hummingbird he had to re-do on one occasion. His father taught him basic drawing skills and he draws his subjects as a preliminary step before applying paint. He prefers oil paint, but has painted before with watercolors and tempera. He has enrolled in a UCCS Introduction to Drawing class and looks forward to new lessons.
"I've never drawn with charcoal before, and it will be a new experience," he said.
Friloux said it may take as long as a year to complete one painting, depending on how inspired he feels, how intricate the detail, and how much time he can spend working on it.
His fans in SPA agree the results are worth the wait.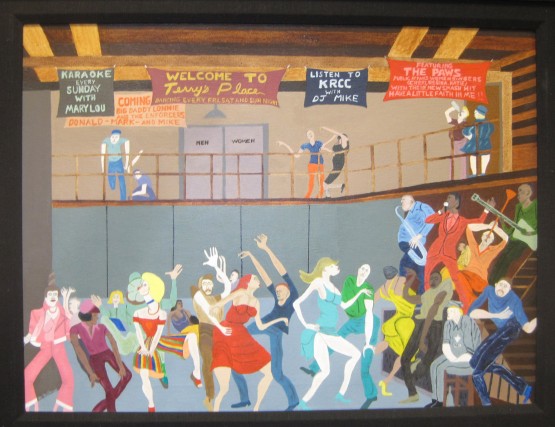 — Photos from Cheri Lee