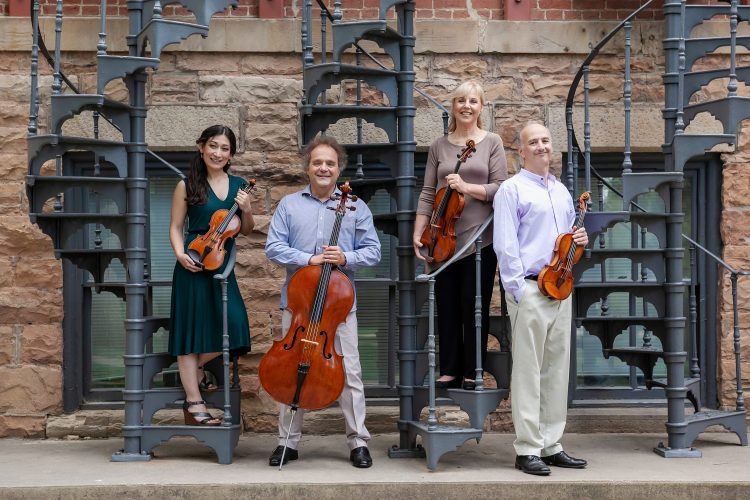 The highly-esteemed, Boulder-based Takács String Quartet returns to Colorado Springs first the first time in 25 years for a Dec. 6 performance at the Chapman Foundations Recital Hall at the Ent Center for the Arts. The quartet will play the likes of Haydn, Shostakovich, and Brahms, and only a few tickets remain for this special Celebrity Recitals presentation of the UCCS Artist Series.
The Takács String Quartet, now entering its forty-third season, is renowned for the vitality of its interpretations. The New York Times recently lauded the ensemble for "revealing the familiar as unfamiliar, making the most traditional of works feel radical once more," and the Financial Times described a recent concert at the Wigmore Hall: "Even in the most fiendish repertoire these players show no fear, injecting the music with a heady sense of freedom. At the same time, though, there is an uncompromising attention to detail: neither a note nor a bow-hair is out of place."
Based in Boulder at CU Boulder, the Takács Quartet performs eighty concerts a year worldwide. This year's lineup included esteemed venues like the Kennedy Center in Washington, D.C., the Royal Conservatory of Music in Toronto, and Wigmore Hall in London.
The Takács Quartet was formed in 1975 at the Franz Liszt Academy in Budapest by students Gabor Takács-Nagy, Károly Schranz, Gabor Ormai and András Fejér. It first received international attention in 1977, winning First Prize and the Critics' Prize at the International String Quartet Competition in Evian, France. The Quartet also won the Gold Medal at the 1978 Portsmouth and Bordeaux Competitions, First Prize at the 1978 Budapest International String Quartet Competition and First Prize at the 1981 Bratislava Competition.
The group made its North American debut tour in 1982. In 2001, the Quartet was awarded the Order of Merit of the Knight's Cross of the Republic of Hungary, and in March of 2011 each member of the Quartet was awarded the Order of Merit Commander's Cross by the President of the Republic of Hungary. Károly Schranz announced his retirement from the Takács Quartet as of April 30th, 2018, and will be replaced by violinist Harumi Rhodes.