The local economy has bottomed and is recovering but it's far from "happy days are here again," according to Fred Crowley, associate director of the Southern Colorado Economic Forum and senior instructor in the College of Business.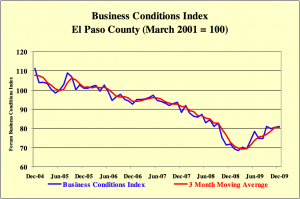 In a quarterly update issued this week, Crowley said business conditions improved more than 18 percent between a low reading in Feb. 2009 and this past December.
"The local economy appears to have bottomed out at the end of 2008 and the first part of 2009," Crowley said. "A recovery is emerging in the local economy and has gained since our last report in November."
Crowley uses a business conditions index which includes ten seasonally adjusted data points including home permits, new car sales, employment and foreclosures. The Dec. 2009 index was 81.1 compared to 68.4 in Feb.2009. But the conditions are a far cry from an index of 100 in March 2001 or more than 110 in Dec. 2004.
"Significant improvement in employment and wages need to be part of the recovery before the index is expected to demonstrate another round of growth," Crowley said.
Crowley pointed to improvements in the residential housing market as a positive, an increase that he traced to federal incentives for first-time and move-up buyers scheduled to expire in June. He also predicted improvement in consumer sentiment, sales tax collections and manufacturing and modest improvement in employment and foreclosure numbers.
For more information on the local economy, visit www.southerncoloradoeconomicforum.com