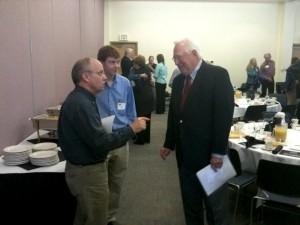 CU President Emeritus John Buechner shared a personal eleventh commandment with UCCS alumni Saturday, a summary of lessons learned in a 34 year CU career and as an elected official.
"Thou shalt not wing it," Buechner said to a crowd of 50 gathered at the Lodge for the Fourth Annual Alumni Lecture.
In between recounting his first trip to the Cragmor Extension Campus in 1963, as UCCS was then known, Buechner shared insight into how to effectively network and to represent both yourself and your organization in social situations.
"If you are trying to influence people within your own organization or outside it – say the members of the Legislature – you cannot afford to wing it," Buechner said. "You must be conscious in how you present yourself."
Buechner shared tips that ranged from how to circulate in a room to dietary and beverage recommendations.
"Many times I stopped at McDonalds on the way home from a social event," Buechner said. "If you go to a function, you don't go to eat and certainly not to drink. You go to represent your organization."
Details of Buechner's 11th Commandment include
When circulating in a room, move counter-clockwise in small circles with the goal of meeting or conversing with each person twice.
To aid in remembering names, visualize a stranger's name on his or her left shoulder and think of someone you already know who shares the same name.
Be an attentive listener.
Accept a business card if it is offered but don't initiate the exchange of cards.
Don't have a drink in your hand at an event. No one likes a wet handshake.
When in business meetings, sit at the left hand of the meeting convener and take notes.
Polish your shoes.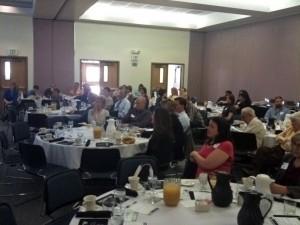 "These are simple tactics," Buechner said. "Maybe they are even a form of manipulation. But I can assure you they work."
Buechner served as CU's president from Nov. 1995 to May 2000. Prior to his appointment, he served as chancellor of the University of Colorado Denver campus and as a faculty member at CU Boulder. He is fellow of the National Academy of Public Administration, serves as a member of the Lafayette City Council, and previously was a member of the Colorado House of Representatives, mayor of Boulder and member of the Boulder City Council.
He has written and co-authored four books, as well as numerous monographs and articles on topics relating to leadership, public administration and politics.
— Photos by Tom Hutton, University Advancement