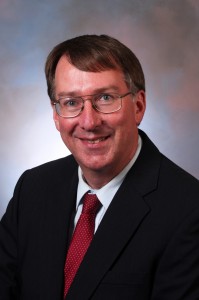 Tom Christensen, dean, College of Letters, Arts and Sciences, recently announced plans to return to the faculty in June 2012.
Christensen will return to teaching and research as a professor in the Department of Physics and Energy Science.
"After considerable reflection, I have decided that next academic year will be my last year as dean," Christensen said in a March 16 memo. "It is time for me to return to the faculty and get back to the things that brought me to UCCS in the first place."
Christensen was named dean in Jan. 2005 and previously served as interim dean and associate dean. He joined UCCS in August 1989 as an assistant professor.
"Tom Christensen has done an outstanding job as dean of our largest college," Peg Bacon, provost, said. "His successors will have big shoes to fill."
As dean, Christensen was in charge as the college experienced a 22 percent increase in student credit hours (2005-2010) and added new degrees including a doctoral degree in applied science,  Bachelor of Arts  in Women's and Ethnic Studies,  Bachelor of Science in Biology, and Bachelor of Science and Bachelor of Arts in Biochemistry. During his tenure, the Department of Mathematics moved to the College of Letters, Arts and Sciences, the college launched a cooperative venture with the College of Education to encourage more science and math students to pursue teaching certification, a new Science & Engineering Building was constructed, Centennial Hall was remodeled and the Heller Center for Arts and Humanities opened.
Christensen said his announcement was designed to allow the university to conduct a thorough search for his replacement and provide a smooth leadership transition.
Provost Peg Bacon said search plans are under development and will likely begin in early 2012. The search committee will be chaired by Teri Switzer, dean, Kraemer Family Library.