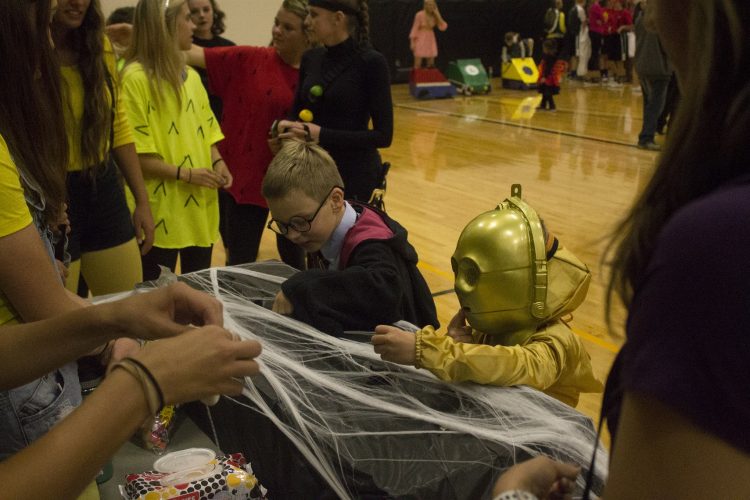 UCCS student-athletes ranked No. 11 among NCAA Division II institutions for most volunteer hours in 2017-18, in data collected by Helper Helper. The Mountain Lions volunteered more than 4,250 volunteer hours in the past year.
"I am extremely proud of our student-athletes and their commitment to community service," said Nathan Gibson, executive director, Athletics. "It is humbling to hear the stories and see the impact that our student-athletes are having. I know that our Student Athlete Advisory Committee has been instrumental in developing relationships and creating opportunities for service and they, along with all the Mountain Lions who've served, should be very proud of the great work they've done this year."
Nearly every UCCS team completed an activity with Special Olympics this year, along with the annual BooZar. The BooZar is held every year and is open to local youth who trick or treat through the residence halls on campus and then play games and activities with student-athletes in the Gallogly Events Center.
The Mountain Lions men's cross country team led the sport with the most hours volunteered this past year. Also ranking in the top 10 in Division II by sport are men's track and field (second), women's soccer (third), women's cross country (fourth) and women's lacrosse (10th).
Member institutions of the Rocky Mountain Athletic Conference ranked seventh overall in volunteer hours. As a division, more than 18,000 NCAA Division II student-athletes volunteered nearly 210,000 hours of community service.
Helper Helper is a community service app that connects volunteers to meaningful experiences in their community. Helper Helper simplifies the organization efforts for volunteer coordinators and helps volunteers easily find and schedule events.
–by Sarah Meier, Athletics