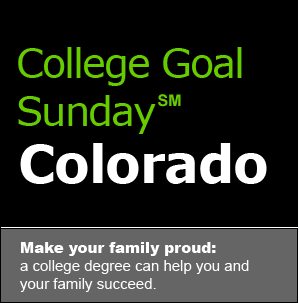 Potential college students and their parents can get free help in completing the Free Application for Federal Student Aid as part of College Goal Sunday from 2-4 p.m. Feb. 21 at Columbine Hall.
Staff members from the UCCS Office of Student Financial Aid, as well as other financial aid experts, will be available to answer questions about grants, scholarships, work study funds and student loans.
Completing the FAFSA is required to be eligible for most college financial aid programs. Spanish translators will be available and participants will also be eligible for a scholarship give away, Brooke Koenig, advisor, Office of Student Financial Aid, said.
Koenig encouraged participants to bring: 2009 federal tax records for potential students and parents. Students and parents may also need Social Security numbers, driver's licenses, 2009 W-2 forms, 2009 bank statements and business and investment information and alien registration cards for non U.S. citizens.  Koenig also encouraged students to register for a personal identification number at www.pin.ed.gov. More information on the FAFSA can be found at www.fafsa.ed.gov.
College Goal Sunday programs are estimated to serve 100,000 students and families in 2010. For four years, Colorado has participated in the program sponsored by the Lumina Foundation with the goal of encouraging young people to consider attending college and explaining financing help that is available.
For more information, visit www.collegegoalcolorado.org