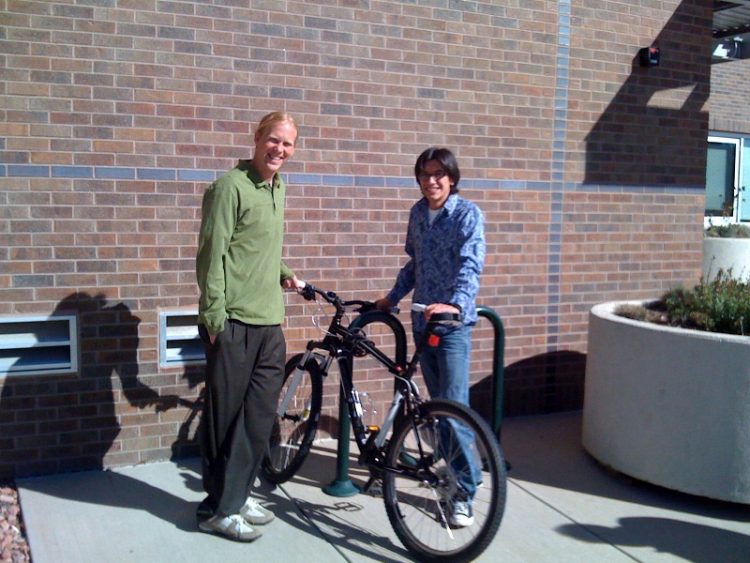 The twelve black and white Specialized 24-speed mountain bikes at the Campus Recreation Center are new and shiny. But organizers of a new UCCS Bike Share program hope they won't stay squeaky clean for long.
Beginning next week, all UCCS students and faculty and staff members who belong to the Campus Recreation Center can take the bikes for a ride for up to three days and a total of ten days per semester at no charge.
"They've kind of got a Michael Jackson 'Thriller' look," Dan Bowan, coordinator, Recreation Center, said of the new bikes. "These are $600 bikes that people can borrow for free. It's going to be awesome."
For the past six months, Bowan and Recreation Center Director Matt Gaden have worked with members of the Department of Public Safety, the Office of Sustainability, and student leaders to design alternatives to individuals driving cars to and from campus. The idea they settled on is the same one used at the Democratic National Convention last year, bicycles.
"We basically brainstormed how to reduce the campus carbon footprint," William Whitfield, manager, Parking Services, said. "This is the idea that we all liked."
Using Public Safety and Recreation Center funds, the bicycles were purchased and added to the Campus Recreation Center's existing array of outdoor equipment available for rent. Team Telecycle, Woodland Park, built the bikes and provided an in-kind donation of $1,300. The bikes will come with a helmet, lock, saddle bag, tire pump and basic tool kit. Users must sign a waiver of liability and take responsibility if the bike is stolen or damaged.
"With University Village opening at the end of the month, it's easy to see someone riding a bike from campus through the underpass to go get groceries or whatever," Daniel Garcia, student body president, said. "I'm excited about this."
Bowan believes the new bicycles will complement efforts in the Recreation Center. The center offers basic bike repair classes and use of a bike repair workshop to students, faculty and staff.