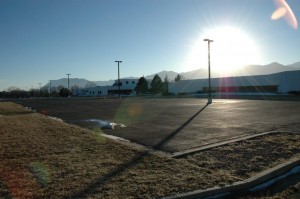 The Housing & Building Association of Colorado Springs announced Tuesday that its Board of Directors will enter into a contract with the regents of the University of Colorado to operate the North Nevada Expo Center at a portion of the 3650 North Nevada Ave. property owned by the university and operated by UCCS.
"We are very excited that UCCS was open to the industry's idea and suggestion that a portion of a building they own could be transformed to meet the expo needs of the HBA and other shows, effectively replacing the now-closed Phil Long Expo Center," Kyle Campbell, 2011 President of the HBA, said.
HBA will enter into five-year contract. Under the contract terms, HBA will manage and market the North Nevada Expo Center. The contract provides an option for a five-year renewal.
At its regular meeting Tuesday in Boulder, the CU Board of Regents unanimously approved UCCS renovating and upgrading 60,000 square feet of the single-story North Nevada Ave. building. The 128,000 square-foot building was part of a partial sale and gift to the CU Foundation in 2006 and has been used primarily for storage since its acquisition.
Renee Zentz, executive vice president, HBA estimated the new location will be ready for shows by Oct.1.
"The community needs quality long term expo space. This partnership will fill that need for many local and regional entities and allow us to continue to support our membership by producing the largest, longest running home and garden show in southern Colorado."
She cited as advantages the building's location, parking, and assistance in revitalizing the North Nevada corridor near UCCS.
"We are pleased that one of the strongest non-profit organizations in the city, the HBA, will be managing the North Nevada Expo Center in providing our community with a permanent location for shows and exhibits that were previously held at the Phil Long Center," Brian Burnett, vice chancellor, Administration and Finance, said.
The Housing & Building Association of Colorado Springs was established in 1950 and represents hundreds of small and large businesses in the residential and commercial building industry.
— Photo by Tom Hutton