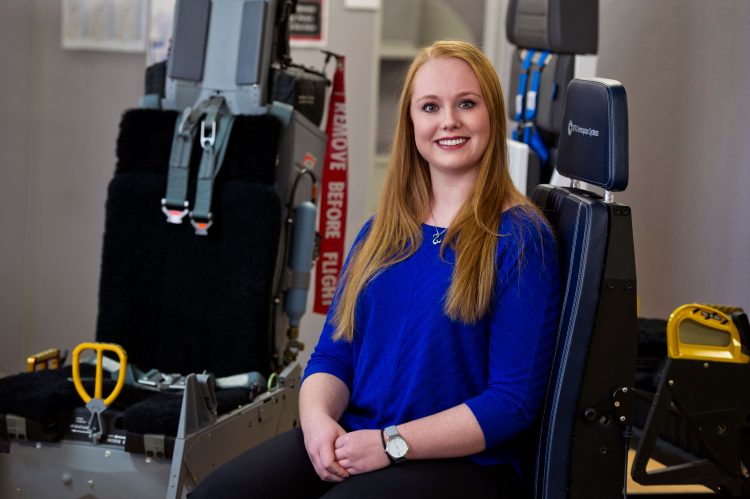 Kaleen Masse grew up in Canon City, Colorado, hiking, snowboarding and competing as a gymnast, while taking upper-level math and science classes.
After taking a design and drafting class, her perspective shifted to engineering as a career. Kaleen wanted an in-state college with a strong science, technology, engineering and mathematics background and the highest educational and financial value.
UCCS was the best answer for her. About six weeks into the first semester, she found that fit in the electrical and electronics engineering program where Kaleen earned her bachelor of science degree. Karen Livesey, assistant professor, Department of Physics and Energy Science, taught all of Kaleen's physics classes and was part of that transition.
"She took an interest in helping students adjust," Masse said. "I found out later it was her first semester of teaching here, from Australia. So she knew how we felt being away from home and took aspects of that and normalized it – helped me adjust and find my bearing."
At school, she joined the Society of Women Engineers and the Institute of Electronic and Electrical Engineers, remaining a member of both today. In her second semester, she began working as student ambassador for UCCS Office of Admissions. "It really was a rewarding experience and helped round out my education."
Before graduation, she became project manager for a yearlong senior design project — developing an inductor capacitor resistor meter.
"I had to learn what each member of my team was good at, what they enjoyed, their strengths and weaknesses, and apply that to the project," which is exactly what she does now as engineering project manager at UTC Aerospace Systems, in Colorado Springs, after earning an electrical engineering degree in 2016.
That role at UCCS definitely propelled her career. Connections made with professors and people in the industry, plus hands-on experience, directly correlated to her current job, she said.
"All of my professors at UCCS really wanted to help me with my future career, not just help me achieve good grades while I was a student."
###
This article original appeared in the "Achieve – UCCS Success Stories" publication.