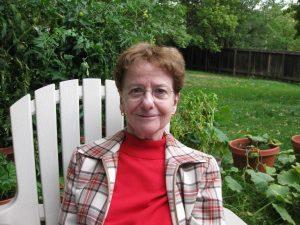 Memorial services are scheduled for 11:30 a.m. Feb. 11 at the Upper Lodge for Harlow W. Sheidley, 76, professor emerita, Department of History.
She was a member of the faculty from 1992 to 2009 and taught colonial and early 19th century U.S. history. She also was a pioneer in teaching courses in women's history and African American history. She died Jan. 26 following a lengthy illness.
"She was a real firecracker," Christina Jimenez, professor and chair, History Department, said. "We will miss her."
Rob Sackett, professor, History Department, said: "Everyone is remembering what a fine historian Harlow was and what an inspirational teacher—and all of that is true. I remember her sense of humor. She would burst out laughing. I would try to get her to laugh, just to see and hear the response. Also, how she loved her family. How she talked about her grandchildren. It was a blessing to know Harlow."
Her family prepared the following obituary. Condolences and messages to the family may be left at Swan Law Funeral Directors website.
Harlow W. Sheidley

December 18, 1941 – January 26, 2018

Harlow W. Sheidley, beloved wife, mother, grandmother and sister, passed away peacefully on January 26, 2018, in Colorado Springs, Colorado after a long battle with Alzheimer's Disease.

Harlow was born in San Francisco, California on December 18, 1941, the last of three children to the late William and Eleanor Walker. She spent her early years in Ellensburg, Washington and Los Altos Hills, California. Harlow attended Stanford University and met her husband William Sheidley while studying at Stanford-in-France. They were married at Stanford in 1962. Harlow worked as a librarian in Palo Alto, California until 1966, when the couple moved to Storrs, Connecticut. After spending several years raising her two children, Harlow did graduate work in history at the University of Connecticut and received her Ph.D. in 1990. From 1992 until her retirement in 2009 she was a history professor at the University of Colorado at Colorado Springs. Her many scholarly works included a book entitled Sectional Nationalism: Massachusetts Conservative Leaders and the Transformation of America, 1815-1836.

Harlow will be remembered by family and friends as a passionate "political junkie" and an avid gardener and reader. Although she lived in New England for 26 years, Harlow always remained a Westerner at heart and delighted in the opportunity to root herself in Colorado during her later years. In addition to spending time with her beloved husband Bill, she loved mentoring her students, sharing meals and conversation with friends, and visiting with her children and grandchildren. These visits always included animated discussions at the dinner table, trips to the local places she loved (including the Cheyenne Mountain Zoo and Garden of the Gods) and sessions of squirrel-feeding and bat-watching on the deck.

Besides her husband of 55 years and her devoted friends, she leaves her daughter Jennifer Conklin (husband, Jeff) and her son Nathaniel Sheidley (wife, Beth), her brother Frank Walker, her sister Eleanor Willemsen, and four grandchildren, Abigail and Ethan Conklin and Ella and Benjamin Sheidley, along with many cousins, nieces and nephews.

A memorial service will take place on February 11 at 11:30 AM at the Upper Lodge on the University of Colorado at Colorado Springs (UCCS) campus, 25 Mountain Lion Way, Colorado Springs, CO 80918. All are welcome.

In lieu of flowers the family suggests a contribution to the Alzheimer's Association at www.alz.org.