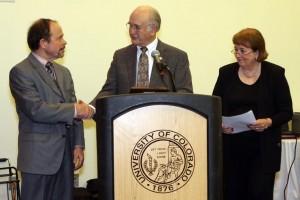 The CU Board of Regents honored Don Klingner, professor, School of Public Affairs, Thursday, officially designating him as a distinguished professor.
Following a formal and unanimous vote, Tillie Bishop, vice chair, CU Board of Regents, presented Klingner with a plaque. Later, the entire board posed for pictures with Klingner and his wife, Janette, a professor of education at CU Boulder.
"Congratulations to you," Steve Bosley, chair, CU Board of Regents, said. "You do us proud with your commitment to your students and your passion for knowledge. Thank you for the standard you set and for all you do for the University of Colorado."
Chancellor Pam Shockley-Zalabak lauded Klingner's service to his profession and to the campus.
"Dr. Klingner is internationally known for his work in human resource management for public organizations, a reputation he built over a 35 year career," Shockley-Zalabak said. "He served as a Fulbright Scholar in Central America and visiting professor at Mexico's National Autonomous University in addition to collaborations with the United Nations, World Bank and Interamerican Development Bank. He also chaired one of the most important groups at UCCS, the University Budget Advisory Committee, where we had the opportunity to work closely together."
"Because much is expected from those to whom much has been given, I know what this honor entails. As long as I am able, I'll pass on what I know and add to it what I can through teaching, service and scholarly contributions to this great University and the wider communities we are privileged to serve together." Don Klingner, distinguished professor, School of Public Affairs.
Klingner thanked his colleagues, including Terry Schwartz, associate dean, School of Public Affairs, Paul Teske, dean, School of Public Affairs, Provost Peg Bacon and Shockley-Zalabak for their support in addition to that of his wife and parents. He gave credit to the mentors and role models who showed what it means to be a professional public administrator and a steward of public service values.
He described highlights of the last three years – being elected as a fellow of the National Academy of Public Administration, serving as president of the American Society for Public Administration, and being named a distinguished professor — as "amazing experiences – it doesn't get any better than this"
In October, Klingner was nominated for the honor for demonstrating outstanding performance in classroom teaching, research and service to the university and its affiliate institutions. The regents scheduled the presentation for February because the meeting was at UCCS.
Klingner has taught at UCCS and two other universities for more than 35 years, and is an internationally renowned expert on human resources management in the public sector. He is the author of more than 100 articles in refereed scholarly journals, book chapters, and 12 books, including "Public Personnel Management," published in 1980 and still a best-seller in its sixth edition. The book is available in Spanish and Chinese.
In addition to his scholarly work, Klingner co-edits "Comparative Technology Transfer and Society," published by The Johns Hopkins Press, and he teaches a variety of core courses in the public affairs master's program, where his students have lauded his ability to make his subject matter engaging.
A reception in Klingner's honor is scheduled for 4 p.m. March 4 in UC 303. To attend, e-mail exec1@uccs.edu by Feb. 26.
Photo by Tom Kimmell