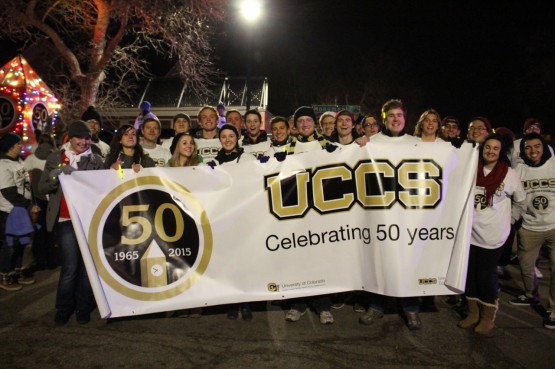 It's time for the UCCS community to bundle up for the 33rd Festival of Lights Parade, happening 5:50 p.m. Dec. 2 on Tejon Street in downtown Colorado Springs.
This year's float will feature a replica of El Pomar Center's clock tower along with Christmas trees and lights, said Stephen Cucchiara, assistant director, Office of Student Activities.
"It will be more illuminated than ever before," Cucchiara said.
Students, staff, faculty and family members are invited to show off their UCCS pride while marching past more than 60,000 spectators. Cucchiara hopes at least 100 people will participate in this year's parade.
"This is a great opportunity to celebrate UCCS in the community and we hope to continue to build on this tradition," he said.
The new and improved float will be on display Dec. 1 at the Campus Services building.
Those interested in marching should email the Office of Student Activities by Dec. 1.
For more information on the Colorado Springs Festival of Lights Parade, click here.