Members of the UCCS community will have the chance for a free breakfast, a warm pair of socks and the opportunity to support student scholarships Nov. 28 as part of Giving Tuesday.
From 7:30 to 9 a.m., at Clyde's in the University Center, a free breakfast will kick off a day of giving on the heels of Thanksgiving, Black Friday and Cyber Monday. All faculty and staff are invited to attend and learn the effects of gifts on UCCS and its students.
There will also be donation tables at the University Center and in academic buildings from 10 a.m. to 2 p.m.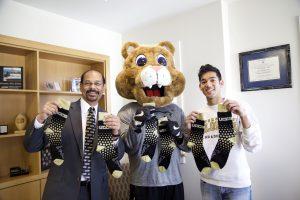 The Office of Alumni Relations and Annual Fund will give the first 500 donors who contribute $10 or more a pair of UCCS socks.
Gifts will be accepted in person by cash, check or credit card. Faculty and staff can also use payroll deduction to contribute to one of 15 scholarship funds including the Garrett Swasey, Boots to Suits, and Reach Your Peak. Donors can also indicate a specific use for their donation.
"This is a special time on campus where everyone comes together to help make a tremendous impact on student lives and our community," Lisa Bartholme, assistant director, Office of Alumni Relations, said. "Every donation, regardless of its size, makes a big difference."
A donor who requested anonymity will give $15,000 to support scholarships if there are 500 donations of any amount Nov. 28.
Last year, the UCCS community donated $80,000 on Giving Tuesday. Giving Tuesday began in 2012 by the 92nd Street Y and the United Nations Foundation as a response to commercialization and consumerism in the post-Thanksgiving season.
To attend the breakfast, register here.
Questions? Contact Bartholme, 255-3187.