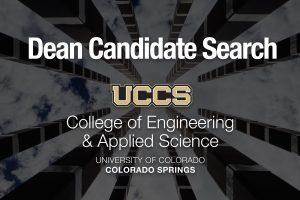 Three candidates for the position of dean of the UCCS College of Engineering and Applied Science will make campus presentations Nov. 13, Nov. 27 and Dec. 11.
Peter Braza, dean, College of Letters, Arts and Sciences, chairs a 12-member search committee charged with assisting in the selection of a replacement for R. "Dan" Dandapani. Dandapani served as dean for nine years before returning to the faculty in July.
The finalists will present for 40 minutes followed by 20 minutes for questions from the audience. Faculty, staff, students, alumni and community members are encouraged to attend and to provide candidate feedback.
The finalists, presentation times and locations are:
Bill Schonberg, 1:30 p.m. Nov. 13, University Center 302. Schonberg is currently a professor of civil, architectural and environmental engineering at Missouri University of Science and Technology and has 19 years of academic leadership experience. He is also an American Society of Civil Engineers and American Society of Mechanical Engineers fellow. See Schonberg's CV (pdf).
Ahsan Choudhuri, 1:30 p.m. Nov. 27, Upper Lodge. Choudhuri is currently a professor and chair of the University of Texas at El Paso Mechanical Engineering Department and founding director of the NASA MIRO Center for Space Exploration and Technology Research. He also holds the MacIntosh Murchison Chair II of Engineering. See Choudhuri's CV (pdf).
Ian Ferguson, 1:30 p.m. Dec. 11, University Center 303. Ferguson is currently a professor of electrical and computer engineering at Missouri University of Science and Technology. He has held academic leadership positions at Missouri S&T, the University of North Carolina, Charlotte, and Georgia Institute of Technology. Ferguson is also an IEEE Fellow. See Ferguson's CV (pdf)
Faculty and staff are encouraged to attend candidate forums and provide feedback using the EAS Dean Candidate Evaluation Form (docx).
In addition to Braza, members of the search committee are:
Michael Calvisi, associate professor, College of Engineering and Applied Science
Edward Chow, professor, College of Engineering and Applied Science
Laura Edwards, financial assistant, College of Engineering and Applied Science
Peter Gorder, associate professor, College of Engineering and Applied Science
Mary Hurless, human resources professional, College of Engineering and Applied Science
KrisAnn McBroom, assistant dean, Graduate School
Courtney Sparks, assistant director, Development Office
Les Tekamp, senior instructor, College of Engineering and Applied Science
Jonathan Ventura, assistant professor, College of Engineering and Applied Science
Mark Wickert, professor, College of Engineering and Applied Science
Bob Witte, vice president of technology strategy, Keysight Technologies, and chair, College of Engineering and Applied Science Leadership Council
Related Posts