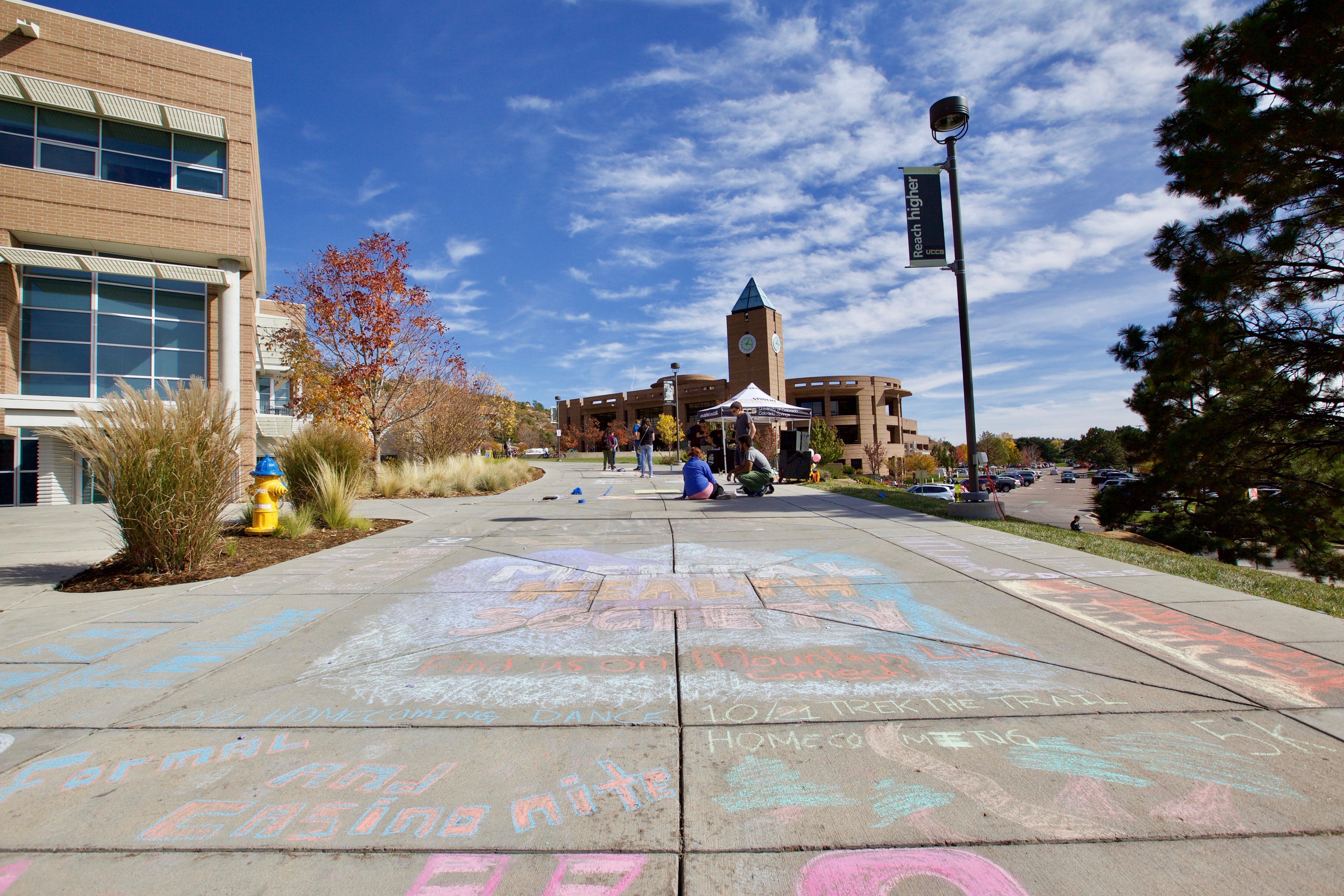 Student clubs and organizations decorated the spine near West Lawn for Chalk the Walk Oct. 18 to kick off Homecoming activities.
Homecoming schedule:  
Oct. 19
Homecoming Kickoff begins 7:30 p.m. on the El Pomar Plaza near the Kraemer Family Library entrance with team chants, student athletes, free food, and games.
Mountain Lion Madness kicks off men's and women's basketball season 9 p.m. at Gallogly Events Center with giveaways, competitions, and a chance to win $50,000.
Oct. 20
Homecoming tailgate starts 3 p.m. at Lot 576, near the Mountain Lion Stadium entrance with games, music, free t-shirts and food.
Women's soccer faces Regis University 5 p.m. at Mountain Lion Stadium.
The annual Homecoming bonfire starts after the women's soccer game at Lot 572.
Oct. 21
The annual Trek the Trail 5k Run benefits Helen and Arthur E. Johnson Beth-El College of Nursing and Health Sciences scholarships. Registration begins at 7 a.m. Learn more about the race.
Homecoming Formal and Casino Night starts 8 p.m. in Gallogly Events Center and Berger Hall. Tickets are on sale at the University Center information desk.
Oct. 22
Homecoming tailgate for alumni kicks off 11:30 a.m. just outside of Mountain Lion Stadium. Registration is open until 4 p.m. Friday Oct. 20.
Women's soccer takes on MSU Denver 12 p.m. at Mountain Lion Stadium, followed by men's soccer final home game of the season 2:30 p.m. against South Dakota Mines.
For more information, contact Office of Student Activities (719) 255-3470.